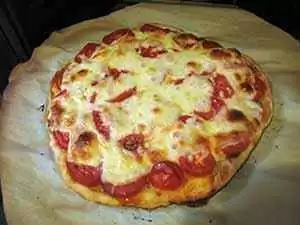 Caption: Photo: CC--inspector_81
Celiac.com 04/11/2014 - As the gluten-free food industry enjoys steady growth and and rising popularity, more restaurants and food purveyors are looking to offer gluten-free items on their menus, and pizza is right at the heart of those efforts.

According to the report by Food Genius, pizza appears on about 40 percent of all U.S. menus. Among pizza menus, 3 percent offer a gluten-free offering.
Look for these numbers to rise as the rising popularity of gluten-free food continues to drive the trend toward more gluten-free menu items.
Half of the restaurants that offer pizza do so in the $7 to $12 range. Consumers' expected value of pizza is about $8. Food Genius reports that, on average, independent pizzas are about $2 more than chain pizzas.
There was no word on the average price of gluten-free pizzas. What's your experience? Do you have viable gluten-free pizza and other food options nearby? Share your comments below.
Source: