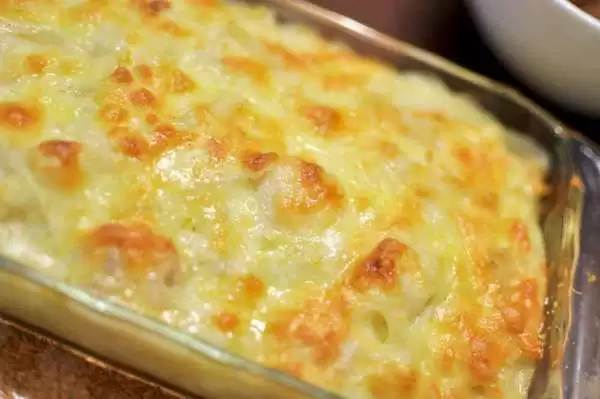 Celiac.com 11/06/2019 - If you're looking to turn up the nutritional factor on your cooking this fall, root vegetables are a great way to start. Abundantly in season, and packed with vitamins and minerals, root vegetables are good for you, but they are not always delicious. This rich, bubbly, potato and root vegetable gratin comes to us from the Food Wishes blog. Chef John solves that problem with generous amounts of cream and top-quality Parmesan cheese. The result is a winning side dish that will go nicely with just about any entrée.
Ingredients:
2 Yukon Gold potatoes, scrubbed and sliced ⅛-inch thick with peel
1 turnip, peeled and sliced ⅛-inch thick
1 rutabaga, peeled and sliced ⅛-inch thick
1 small celery root, peeled and sliced ⅛-inch thick
1 parsnip, peeled and sliced ⅛-inch thick
salt, to taste
3 cloves garlic, minced
2 tablespoons butter
1¼ cups chicken broth
1 cup heavy cream
1 tablespoon chopped fresh thyme
1 pinch ground nutmeg
1 pinch cayenne pepper
2 teaspoons olive oil
¼ cup finely grated Parmigiano-Reggiano cheese, divided.
Chef John's video recipe with the full preparation instructions.

Directions:
Heat the oven to 375 degrees F (190 degrees C).

After washing, peeling, and slicing vegetables, add a generous amount of salt to a pot of water, and bring to a boil.

Bring a large pot of generously salted water to a boil. Add the vegetables, and cook uncovered for 3 minutes. 

Drain in a colander, then immediately immerse in ice water for several minutes until cold to stop the cooking process. 

Once the vegetables are cold, drain well, and set aside.

Cook garlic and butter in a large skillet over medium heat until garlic starts sizzling, about 3 minutes.

Stir in chicken broth, heavy cream, thyme, nutmeg, and cayenne pepper; cook until mixture begins to simmer, about 5 minutes.

Coat a 9x13-inch baking dish with olive oil and spread vegetables evenly over the oil. Basically, you want enough sliced vegetables to fill your 9x13-inch casserole dish about ¾ of the way.

Pour broth and cream mixture over vegetables and top with half of the grated Parmigiano-Reggiano cheese.

Cover baking dish loosely with aluminum foil, place on a baking sheet, and bake at 375 degrees F for 40 minutes.

Remove baking dish from the oven and top with remaining Parmigiano-Reggiano. 

Bake uncovered until vegetables are browned, bubbling, and tender, about an additional 30 minutes.

Remove from the oven and let rest for 20 minutes.