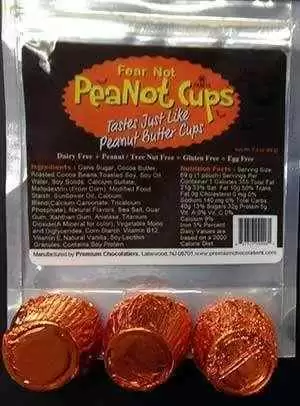 Premium Chocolatiers have struck a home run with their tasty Pea"not" Butter Cups.  These delightful treats look and taste just like traditional peanut butter cups with milk chocolate, but are peanut-free.  Crafted with a signature blend of roasted cocoa beans and cocoa butter with no shortenings or coatings added, these melt-in-your mouth candies are free of milk, nuts, gluten, and eggs. 
They are perfect for anyone who loves the delicious combination of peanut butter and chocolate, but is on gluten-free diet or is allergic to peanuts.  Peanot Cups are especially great at Halloween or anytime. 
---
Celiac.com Sponsor (A12):


---
---
Celiac.com Sponsor (A12-m):


---
For more information, visit their Web site.

Review written by Patricia Seeley.