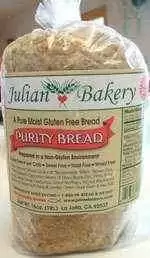 Celiac.com 11/13/2009 - Purity Gluten-Free Bread is an amazing product for many reasons.  First off it is cultured for 8 hours (you can notice a slight sourdough flavor), so it is easier to digest, and, according to the Julian Bakery "you get more energy out of it than it takes to digest it." Second, gluten-free Purity Bread has only 2 net carbs, 7 grams of protein, and 8 grams of fiber per slice, and I doubt that there are other gluten-free breads that can make this claim.  Third, Purity Bread has zero refined ingredients and is excellent for those with diabetes, celiac disease, candida overgrowth, and hypoglycemia—so it really is in a class of its own.
On top of all this the bread tastes fantastic!
---
Celiac.com Sponsor (A12):


---
---
Celiac.com Sponsor (A12-m):


---
Find out more at: julianbakery.com.