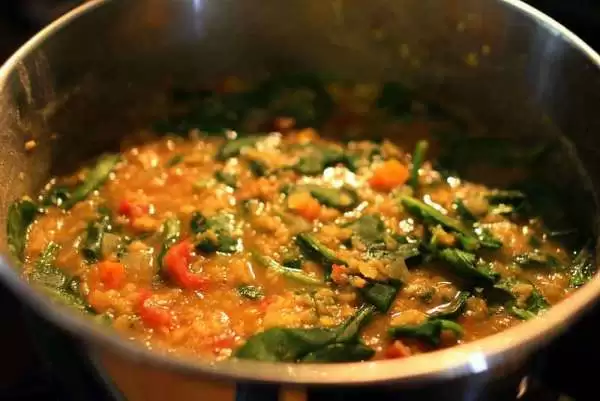 Caption: Gluten-free African lentil stew. Image: CC BY-ND 2.0--Mr.TinDC
Celiac.com 04/04/2020 - This North African lentil stew features lentils and spinach in a flavorful base of onions, garlic, tomatoes and herbs. It's a delicious, easy-to-make one-pot meal for just about any time of the year. 
 
Ingredients:
3 cups chicken stock
1 cup red lentils
5 cups fresh spinach leaves loosely packed
4 cloves garlic
3 Roma tomatoes diced into ¼ inch cubes (or cup of canned diced tomatoes)
1 onion
⅓ cup mixed cilantro and parsley chopped
1 tablespoon olive oil
2 tablespoons tomato paste
½ teaspoon salt
1 teaspoon allspice
½ teaspoon dried coriander ground
1 teaspoon turmeric
1 teaspoon paprika
Directions:
In a medium-sized pot, slowly sauté onion and garlic with the olive oil until soft and nearly golden. (Do not rush this. Use low heat and go slow. If garlic burns, or browns too much, it will get bitter.)
---
Celiac.com Sponsor (A12):


---
---
Celiac.com Sponsor (A12-m):


---
Then add the tomatoes and paste and keep sautéing until the tomatoes release all the water, and keep cooking until most of the tomatoes water is evaporated.

Add the herbs and spices and sauté for another couple of minutes until the mixture looks like a thick paste.

Add the stock and bring it to a boil, then add int he lentils and cover the pot. 

Cook the lentils for 15 minutes until they start to soften up and then add the spinach.

Keep the pot covered and allow it to cook for 10 minutes more until the spinach has wilted and the lentils have cooked completely. 

Add the remaining herbs. Taste and adjust the salt. 

Serve immediately, with or without rice.