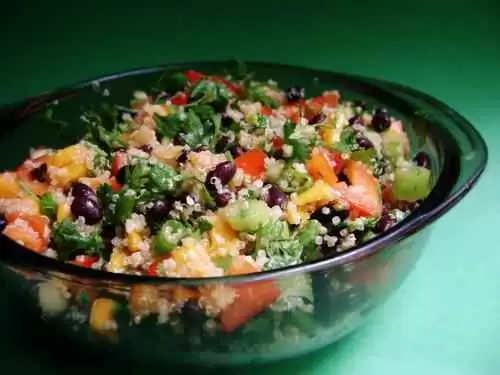 Caption: The finished quinoa salad. Photo CC--Tomatoes and Friends
Celiac.com 11/17/2017 - Quinoa is actually a seed, but let's not allow taxonomy to come between us and dinner. For our purposes, the fact that quinoa is not a grain may be appropriate, because this salad recipe is not a salad in the traditional sense of lettuces ad vegetables. In fact, this dish is more of a fruit salad with beans and quinoa. Whatever you call it, it's delicious.
Toasting your quinoa before cooking before cooking enhances the delicately nutty flavor. Rinsing it well removes the bitter outer coating of saponin.
Ingredients:
1 cup canned black beans, rinsed
½ cup quinoa
1 cup water
¼ cup orange juice
¼ cup chopped fresh cilantro
2 tablespoons rice vinegar
2 teaspoons toasted sesame oil
1 teaspoon minced fresh ginger
1 medium mango, diced
1 small red bell pepper, diced
2 scallions, thinly sliced
Dash of salt
Directions:
Cook quinoa as per directions.
Mix together the rest of the ingredients together with the mango in a bowl.
Add cooked quinoa and toss to combine.
Serve chilled.