Quinoa is the perfect gluten-free grain.  Full of protein and fiber, this delicious ancient grain serves as the ideal base for Thanksgiving stuffings and salads.  Here is a recipe that was modified from the "More Than Gourmet" website.
Ingredients
2 Tablespoons vegetable oil
1 medium onion, finely chopped
1 large rib celery, finely chopped
1½ cups uncooked quinoa, rinsed
1½ oz. Glace de Volaille Gold + 2 cups hot water (or two cups chicken or turkey stock)
½ cup orange juice
½ cup dried cranberries
½ cup chopped pecans, toasted
Grated zest of 1 orange 
3 Tablespoons finely chopped flat-leaf parsley
salt and freshly ground black pepper to taste
---
Celiac.com Sponsor (A12):


---
---
Celiac.com Sponsor (A12-m):


---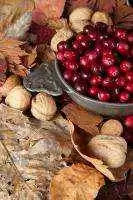 Preparation
Heat the butter or oil in a medium casserole. Stir in the onion and celery and cook over medium heat until the onion is translucent and golden. Stir in the quinoa, pour in the diluted Glace de Volaille Gold and orange juice, bring to a boil, then turn the heat to low. Stir in the cranberries, cover and cook until all the liquid has evaporated, 12-15 minutes. Remove the cover and fluff with a fork. Stir in the pecans, orange zest, parsley, salt and pepper. Serve at once or keep warm over low heat, stirring occasionally.