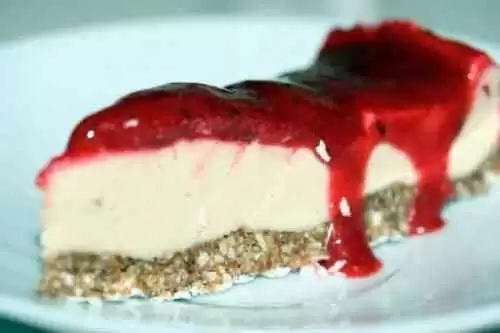 Caption: Gluten-Free Cheesecake (photo courtesy of Akajos)
Raw foods are increasing in popularity with health food enthusiasts everywhere for their health benefits and the divine recipes. Most raw foods are also naturally gluten-free. The following gluten-free, dairy-free, soy-free, egg-free, raw cheesecake is a must try. Personally, I think  raw cheesecake is better than the real thing. However, if you are a huge cheesecake fan, you may have to get creative and remember that this is a raw dessert and requires absolutely zero cooking, and therefore is really no comparison to an authentic cheesecake. However, this raw cheesecake is even healthy enough to eat for breakfast, something that can't be said for traditional cheesecake.
Finding the ingredients may be the hardest part of making this raw cheesecake. Many items can be found at most health food stores.
The entire preparation process takes less than 30 minutes (not including the nut soaking).
Ingredients:
(Serves 12)

2 cups macadamia nuts
1 1/2 cups cashews
1/2 cup pitted Medjool dates
1/4 cup dried coconut
6 Tbs. coconut oil, melted but not to a boil
1/4 cup lime juice
1/4 cup raw agave nectar
1/2 sun-dried vanilla bean
3 cups mixed berries, such as blueberries and raspberries
Himalayan salt
Preparation:
Place macadamia nuts in large bowl, and cover with cold, filtered  water and pinch of salt. Place cashews in separate bowl, and cover with cold, filtered water, and pinch of salt. Soak nuts 4 hours, then rinse, drain, and set aside.
Directions:
Pulse macadamia nuts and dates in food processor to a sticky crumb-like consistency. Sprinkle dried coconut on bottom of 8-inch pie pan. Press macadamia nut mixture onto coconut to make crust.
Place cashews, coconut oil, lime juice, agave nectar, and 6 Tbs. water in bowl of food processor. Scrape seeds from vanilla bean into food processor bowl, and purée until smooth. Pour mixture onto crust, and freeze 1 to 2 hours, or until firm. Remove from freezer, slice while frozen, and transfer to serving platter. Defrost in fridge 1 hour, or on counter top 30 minutes; top with berries; and serve.