Chicken Marsala is one of those Italian delights that rely on the marriage of a few simple ingredients to forge a rich and satisfying main dish. In this case, butter, wine, mushrooms and cream come together to deliver a delicious sauce that takes the chicken to another level.
This easy to make recipe for chicken Marsala delivers an elegant gluten-free version of this classic Italian dish.
---
Celiac.com Sponsor (A12):


---
---
Celiac.com Sponsor (A12-m):


---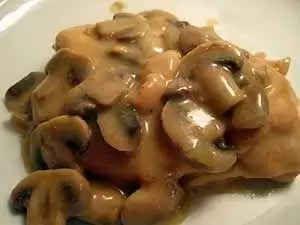 Ingredients:
2 skinless, boneless, chicken breasts
salt and freshly ground black pepper
1/2 cup gluten-free flour
up to 1/2 cup olive or vegetable oil
8 ounces container of mushroom, sliced and cleaned
2 tablespoons butter
1/2 cup sweet Marsala wine
1/4 cup chicken stock
1/4 cup sherry or dry white wine

Optional: 2 tablespoons heavy cream
Garnish with chopped parsley or oregano

Directions:
Cut chicken breasts in two lengthwise.

Use a meat tenderizer or a mallet to pound meat until flat and about a quarter inch thick.

Generously season the chicken with salt and pepper on both sides.

Dredge the chicken in gluten-free flour.

In a large skillet, heat oil to medium-high heat and sauté each piece of chicken for 3-4 minutes per side until golden brown.

Place cooked chicken on a paper towel, lightly dab tops to remove extra oil, and cover with foil.

Reduce the heat to medium and add butter and mushrooms same skillet.

Season mushrooms with salt and pepper, and sauté for 4-5 minutes. Add marsala wine, sherry, cream, and chicken stock. Cook for 3-5 minutes so liquid is slightly reduced.

Plate the chicken breasts, and to with mushrooms and sauce.

Serve with your favorite gluten-free pasta, or your favorite risotto.