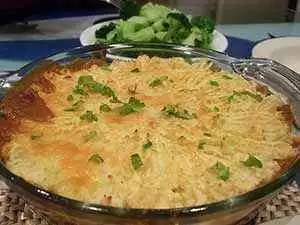 Caption: Photo: CC--avlxyz
Shepherd's pie is one of my favorite comfort foods. It brings together meat, potatoes cheese and veggies for a simple, satisfying meal that will also help to warm up the house on a cool day.
Here is a recipe for a delicious, gluten-free shepherd's pie that is quick, easy to make, and sure to please most meat and potato lovers.
---
Celiac.com Sponsor (A12):


---
---
Celiac.com Sponsor (A12-m):


---
Ingredients:
1½ pounds lean ground beef
6 large potatoes, peeled and cubed
1 medium onion, chopped
¼ cup shredded sharp cheddar cheese
4 carrots, peeled and chopped
1 (14.5 oz) can Fire Roasted Diced Tomatoes, drained
1 tablespoon vegetable oil
1 cup frozen peas, thawed
½ cup whole milk
1 cup gluten-free chicken or beef broth
1 teaspoon chopped fresh or dry rosemary
1 teaspoon chopped fresh or dry thyme
1 tablespoon chopped Italian parsley
1 tablespoon balsamic vinegar
1 tablespoon tomato paste
2 tablespoons potato flour (other other gluten-free flour)
4 tablespoons butter, unsalted
2 tablespoons sour cream
Directions:
Heat oven to 375°F.
In a large pot of salted water, boil potatoes and cook until tender, about 20 minutes.
Drain potatoes and mash with butter, milk and sour cream. Season with salt and pepper to taste; set aside.
Heat oil in a large sauté pan over medium-high heat. Add the onions, carrots, and beef. Cook until browned, 8 to 10 minutes.
Drain away the fat and add the broth, vinegar, tomato paste, diced tomatoes, and herbs. Simmer about 10 minutes, strain away any excess liquid, mix in the flour, and then add the peas. Mix well.
Pour the mixture into a large glass baking dish.
Spread potatoes over the meat mixture, then crosshatch the top with a fork. Top with cheddar cheese.
Bake until golden brown on top, 30 to 35 minutes.