Celiac.com 11/12/2013 - If you say you're making a really good gluten-free Veal Parmesan or Chicken Parmesan for lunch or dinner, and if you say I am invited, then we are very likely going to be friends, for my heart holds a deep and abiding love those two dishes.
Here's a quick, easy and elegant version. I like to make it with veal, but chicken is also delicious.
---
Celiac.com Sponsor (A12):


---
---
Celiac.com Sponsor (A12-m):


---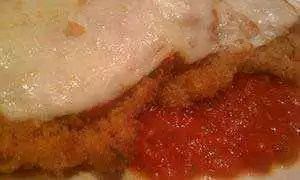 Ingredients:
6 thin veal cutlets, about 2 1/2 ounces each
OR
3 boneless, skinless chicken breasts, halved horizontally
¾ cup of potato flour, rice flour, cornstarch, or general purpose gluten-free flour
¾ cup crushed Rice Chex or gluten-free breadcrumbs
½ cup grated Romano cheese
1 teaspoon salt
1 teaspoon black pepper
½ teaspoon cayenne pepper
1 teaspoon garlic powder
1 teaspoon onion powder
1 teaspoon paprika
1 teaspoon dried oregano
1 teaspoon dried thyme
1 large egg, lightly beaten
2 cups your favorite easy tomato sauce--canned. jarred, whatever might be in the freezer, etc.
⅓ cup olive oil
4 ounces mozzarella cheese, preferably fresh, cut 6 1/4-inch-thick slices
Salt and freshly ground pepper to taste
Directions:
Combine breadcrumbs and grated Parmesan in a shallow bowl.
Combine spices in a bowl and mix.
Heat your oven's broiler.
On the stove, warm the tomato sauce on a rear burner.
On another burner, heat ½-inch of oil in large cast iron skillet over medium heat. Don't let oil get smoky. 
Season both sides of the cutlets with the spice mix of salt, pepper, garlic powder, onion powder, thyme, oregano, paprika, and cayenne.
Dredge cutlets in gluten-free flour of choice.
Then dip cutlets in the beaten egg, then dredge in breadcrumb and cheese mixture, turning to coat both sides. Place 3 cutlets on a plate.
Place 3 cutlets in skillet; cook until golden, 1 to 2 minutes on each side.
Using a spatula, transfer browned cutlets to a 10x15 inch baking pan.
Top off oil in the skillet. Cook the remaining cutlets.
Place remaining cutlets in baking pan.
Top each cutlet with a slice of mozzarella.
Now, here's where I do things differently than most traditional preparation methods. Instead of lining the pan with the tomato sauce, I broil the fried cutlets alone--about 4 inches from heat source until cheese is melted and lightly browned in spots, 4 to 5 minutes.
I serve them immediately with warm tomato sauce on the side. This makes for a crunchier cutlet and the ability to add sauce at will.
You can also put the warm sauce on the plate and top with the broiled cutlas. Or you can do it the traditional way, by putting the sauce in the pan, then putting the cutlets and cheese in and broiling.
However you do it, I'm sure you'll make friend with this gluten-free version of veal and chicken Parmesan.