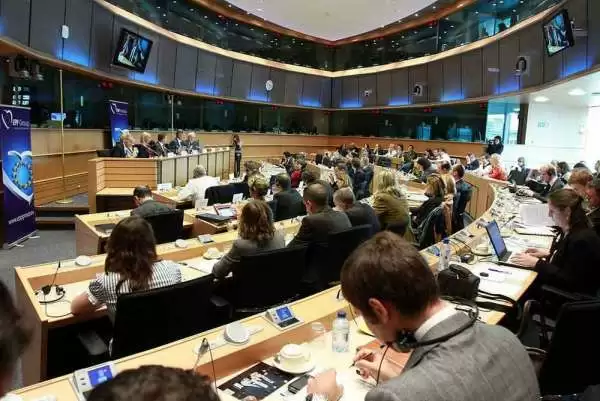 Caption: Image: CC BY-ND 2.0--EPP Group in the European Parliament (Official)
Celiac.com 07/15/2020 - Celiac disease is on the rise globally. To understand the reasons for the rapid growth in celiac disease, it is important to understand how the immunoreactive triggers in gluten-containing cereals interact with the human gastrointestinal tract and immune system, and to devise strategies for celiac prevention, and treatment beyond the gluten-free diet. For this, multidisciplinary collaboration will be crucial. 
A research team collaborating as the Working Group on Prolamin Analysis and Toxicity (Prolamin Working Group, PWG) recently provided an update on progress and recommendations on celiac disease. The PWG team included Katharina A. Scherf, Carlo Catassi, Fernando Chirdo, Paul J. Ciclitira, Conleth Feighery, Carmen Gianfrani, Frits Koning, Knut E. A. Lundin, Detlef Schuppan, Marinus J. M. Smulders, Olivier Tranquet, Riccardo Troncone, and Peter Koehler.
---
Celiac.com Sponsor (A12):


---
---
Celiac.com Sponsor (A12-m):


---
During the last meetings, the PWG team held discussions of the current state of the current state of celiac disease knowledge, along with major stakeholders from celiac disease societies, academia, industry and regulatory bodies. 

Based on the current state of knowledge, PWG provides recommendations from its members regarding clinical, analytical and legal aspects of celiac disease. They discussed a number of topics that will require future multidisciplinary clinical collaboration. Of particular importance are the collection of robust data on the rising number of celiac cases, to better understand gluten-specific T cells, to study their kinetics and transcriptomics, and to better identify environmental agents that help breakdown gluten tolerance, and may help trigger to celiac disease.

One critical topic that received much discussion was the need for a comprehensive understanding of the gluten immunoreactive components in wheat, rye and barley, the ways in which the components are influenced by genetics and the environment, and a comparison of different methods for compliance monitoring of gluten-free products. Lastly, the PWG discussed the need for improved reference materials for gluten analysis.

Stay tuned for more on efforts to better understand potential triggers for celiac disease, and how those triggers are influenced by genetics and the environment.

Read more at: Front Nutr. 2020; 7: 29.

 

The researchers are variously affiliated with the Department of Bioactive and Functional Food Chemistry, Institute of Applied Biosciences, Karlsruhe Institute of Technology (KIT), Karlsruhe, Germany; the Department of Pediatrics, Polytechnic University of Marche, Ancona, Italy; the Instituto de Estudios Inmunologicos y Fisiopatologicos- IIFP (UNLP-CONICET), Universidad Nacional de La Plata, La Plata, Argentina; the Norwich Medical School, University of East Anglia, Norwich, United Kingdom; the St. James's Hospital, University of Dublin, Dublin, Ireland; the Institute of Biochemistry and Cell Biology, Italian National Council of Research, Naples, Italy; the Leiden University Medical Centre, Leiden, Netherlands; the Department of Gastroenterology, Oslo University Hospital Rikshospitalet and Stiftelsen KG Jebsen Coeliac Disease Research Centre, University of Oslo, Oslo, Norway; the Institute for Translational Medicine, University Medical Center of the Johannes Gutenberg University Mainz, Mainz, Germany; the Plant Breeding, Wageningen University & Research, Wageningen, Netherlands; the INRAE, UR BIA, Nantes, France; the European Laboratory for the Investigation of Food Induced Diseases (ELFID), Department of Medical Translational Sciences, University Federico II, Naples, Italy; and with Biotask AG, Esslingen, Germany.