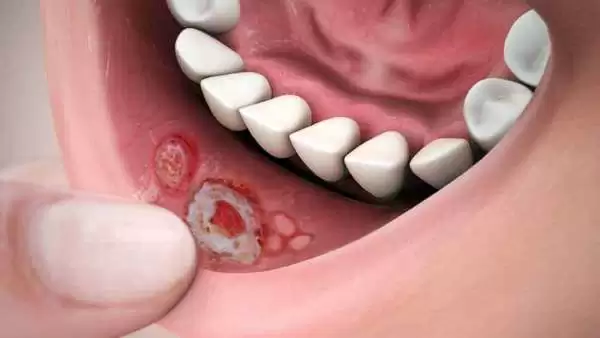 Caption: Canker sores can be very painful. Image: CC BY-SA 4.0--https://www.scientificanimations.com
Celiac.com 05/27/2020 - Recurrent aphthous stomatitis (RAS), or canker sores, is one of the most common oral mucosa conditions, and may be related to vitamin deficiencies or immune conditions such as celiac disease. A team of researchers Turkish Republic Health Ministry recently set out to determine rates of hematinic deficiency and celiac disease in children with RAS. 
The research team included Songül Yılmaz, Ceyda Tuna Kırsaçlıoğlu, and Tülin Revide Şaylı. They are variously affiliated with the Department of Pediatric Gastroenterology, and the Department of Pediatrics at the Turkish Republic Health Ministry, Ankara Child Health Diseases, Hematology and Oncology Training and Research Hospital, Ankara, Turkey.
---
Celiac.com Sponsor (A12):


---
---
Celiac.com Sponsor (A12-m):


---
The study included patients from 6 months to 18 years in age, who were diagnosed with RAS at the study institution from 2010–2011, and who had experienced at least three or more episodes of aphthous stomatitis in the prior year. The research team excluded patients with chronic illness, acute infection, or those receiving immunosuppressant drug treatment. The team also included a control group of similarly aged children without RAS, who were being seen in pediatric outpatient clinics.

The research team reviewed medical records of RAS patients, looking for the evidence of celiac disease, and also hematinic deficiencies, including hemoglobin, mean corpuscular volume, ferritin, vitamin B12, and folic acid.

In all, the team reviewed records for 108 children with RAS, and nearly 60 healthy children assessed for hematological abnormalities during regular examination. Nearly 35% of the RAS group patients had a family history of RAS, compared with just 7% for the control group. The data showed hematological abnormalities in nearly one-third of the RAS group, compared with 10.5% for the control group, along with significantly higher rates of iron deficiency anaemia for the RAS group. 

Three patients, about 3% of RAS patients were diagnosed with celiac disease, which is much higher than rates seen in healthy children in Turkey. The children also commonly showed mild malnutrition, iron deficiency and iron deficiency anaemia.

Based on their data, the researchers are recommending nutritional and hematological assessment for children with RAS. They also recommend the doctors consider celiac disease screening for children with hematological abnormalities and malnutrition.

Read more in Pediatrics International; 2020 19 January