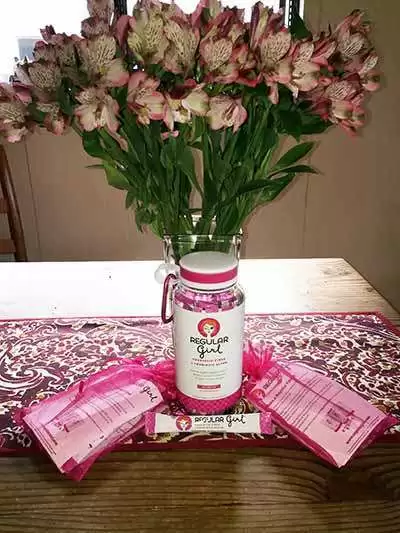 Caption: Image: Mei Adams
Celiac.com 12/29/2015 - Regular Girl is a gluten-free prebiotic fiber with a probiotic blend that is specifically designed "for the woman on the go." The beautiful and highly-functional packaging that it comes in makes this point clear—15 convenient serving sized packets are included in an athletic-style, non-breakable plastic bottle—which makes it very easy to take with you to the office, on vacation, or anywhere else you want to go (it is also available in 30-day supply bulk powder).
Each Regular Girl serving packet contains 6 grams of the company's proprietary "Sunfiber," which is designed to eliminate any gas or bloating that can be caused by other dietary fiber supplements. This supplement is unique because it also contains 8 billion CFU of Bifidobacterium lactis to help normalize bacterial gut flora and improve calcium absorption.
---
Celiac.com Sponsor (A12):


---
---
Celiac.com Sponsor (A12-m):


---
Regular Girl packets are very easy to use—just mix one with 6-8 ounces of water or any non-carbonated beverage. What I really liked about them is that they aren't flavored, so they don't contain any artificial flavors or colors, which makes them very easy to drink by themselves or with your favorite beverage or smoothie.

Overall, this is the perfect dietary fiber supplement for anyone with celiac disease, and especially for women who appreciate well-designed packaging which allows you to take them with you wherever you want to go. 

For more info visit: www.regulargirl.com.