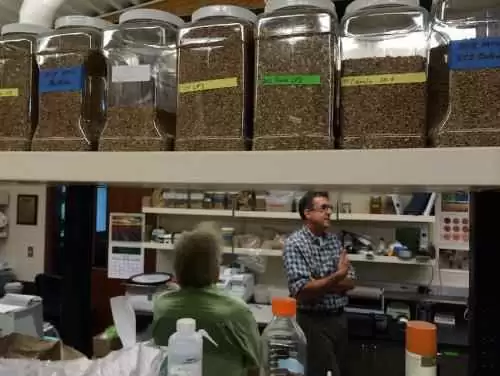 Caption: For the first time, researchers have used CRISPR/Cas9 technology to produce low-gluten, non-transgenic wheat. Photo: CC--Sam Beebe
Celiac.com 10/25/2017 - For people with celiac disease, eating gluten proteins from wheat, barley, and rye triggers an auto-immune response, and the accompanying physical symptoms.
A team of researchers recently set out to engineer low-gluten wheat strains that also have low-reactivity for people with celiac disease. To meet their goals, the team designed two sgRNAs to target a conserved region adjacent to the coding sequence for the 33-mer in the -gliadin genes. They then sought to evaluate the results.
---
Celiac.com Sponsor (A12):


---
---
Celiac.com Sponsor (A12-m):


---
The research team included Susana Sánchez-León, Javier Gil-Humanes, Carmen V. Ozuna, María J. Giménez, Carolina Sousa, Daniel F. Voytas, and Francisco Barro. They are variously affiliated with the Departamento de Mejora Genética Vegetal, Instituto de Agricultura Sostenible (IAS-CSIC), Córdoba, Spain; the Department of Genetics, Cell Biology, and Development, Center for Genome Engineering at the University of Minnesota in Minneapolis, MN, USA; and with the Facultad de Farmacia, Departamento de Microbiología y Parasitología, Universidad de Sevilla, Spain.

The gliadin gene family of wheat includes four highly reactive peptides, with the 33-mer peptide being the main culprit in celiac patients. In all, the team generated twenty-one mutant lines, all of which showed strong reduction gliadin proteins.

Of the 45 different genes identified in wild type gliadin, the team mutated up to 35 different genes in one of the lines to achieve an 85% reduction in immunoreactivity. They then identified the transgene-free lines, and found no off-target mutations in any of the potential targets.

So, what does this all mean in English? Well, basically the low-gluten, transgene-free wheat lines that the team describes here could be used to produce low-gluten foods, as well as serving as source material to introduce the low-gluten, low-reactivity traits into selected wheat varieties.

Basically, the technology could be used to create low-gluten wheat varieties with low immunoreactivity. Now, most folks with celiac disease, especially those with higher gluten sensitivity, would likely need more than and 85% reduction in immunoreactivity to see any real benefit. However, this study provides an interesting glimpse at how science might help researchers to create wheat strains that are safe for people with celiac disease.

Source: