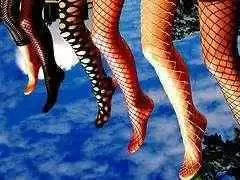 Caption: Restless Leg Syndrome and Celiac Disease (photo courtesy of Geraint Warlow)
Celiac.com 04/22/2010 - Restless leg syndrome (RLS) is a common neurological condition, with generally unknown causes, that is sometimes associated with specific disorders such as iron deficiency. Even though celiac disease is an autoimmune condition, people with celiac disease often suffer from associated malabsorption-related iron deficiency anemia and peripheral neuropathy.
A team of researchers recently set out to assess rates of restless leg syndrome in adults with celiac disease. The team included Marcello Moccia, MS, Maria Teresa Pellecchia, MD, PhD, Roberto Erro, MD, Fabiana Zingone, MD, Sara Marelli, MD, Damiano Giuseppe Barone, MD, Carolina Ciacci, MD, Luigi Ferini Strambi, MD, and Paolo Barone, MD, PhD.
---
Celiac.com Sponsor (A12):


---
---
Celiac.com Sponsor (A12-m):


---
They are variously associated with the Department of Systematic Pathology, the Department of Neurological Sciences at University Federico II and IDC Hermitage Capodimonte, Naples, Italy, and the Sleep Disorders Center, University Vita-Salute San Raffaele, Milan, Italy.

For their study, the team enrolled 100 adult patients for features of celiac disease, iron metabolism, clinical and neurological conditions, and enrolled another 100 people from the general population as control subjects. These subjects were matched for age and sex.

To determine the presence of restless leg syndrome in celiac disease patients and controls, the team applied the four essential diagnostic criteria of the International restless leg syndrome Study Group, in addition to conducting a neurological examination. They gauged restless leg syndrome severity using the International restless leg syndrome Study Group rating scale.

The results showed a 31% prevalence of restless leg syndrome among subjects with celiac disease, which was much higher than the 4% prevalence in the control population (P < 0.001). The average restless leg syndrome severity among celiac disease patients was moderate (17 ± 6.5).

In the subjects with celiac disease, the team saw no significant correlation between restless leg syndrome and either gluten-free diet or iron metabolism; even though the celiac patients with restless leg syndrome showed significantly lower hemoglobin levels than celiac patients without restless leg syndrome (P = 0.003).

They also found no connection between restless leg syndrome and other possible causes of secondary restless leg syndrome, including signs of peripheral neuropathy, pregnancy, end-stage renal disease, and pharmacological treatments.

Their study increases the number of neurological disorders associated with celiac disease, and supports screening all celiac disease patients for restless leg syndrome.

SOURCE: Movement Disorders; 13 Apr 2010
DOI 10.1002/mds.22903