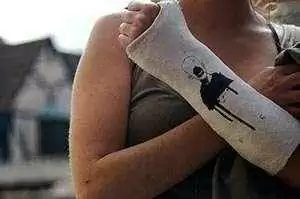 Caption: Photo: CC - sebastianjt
Celiac.com 11/23/2011 - Osteopenia and osteoporosis, both conditions in which bone density is less than optimal, are often seen in people with celiac disease at the time of their diagnosis. There have been conflicting data as to whether a gluten free diet can improve bone density. Researchers in Argentina set out to determine if celiac patients suffer more peripheral fractures than a control population, and to assess the effects of a gluten free diet on fracture risk. Their results are reported in the July 7, 2011 issue of the World Journal of Gastroenterology.

They recruited 256 people who had been diagnosed with celiac at least five years before the study began in March, 2007, asked them if they had ever broken any bones and, if so, which. They then compared their answers to answers obtained from 530 age- and sex- matched controls with functional gastrointestinal disorders. People with other disorders that could reduce bone health – like thyroid dysfunction, rheumatoid arthritis, inflammatory bowel disease, and diabetes – as well as those taking vitamin D, steroids, calcium supplements or other medications that could affect bone metabolism were excluded.
The authors speculate that eliminating gluten may reduce the risk of fractures in celiac patients not necessarily by increasing bone mass and mineral density, but by improving body mass and fat/ muscle composition, nutritional status, and bone architecture.
Despite its limited scope, the take home message of this study is clear; if you have celiac disease, strictly adhering to a gluten free diet is good not just for your intestines, immune system, and skin; it is also good for your bones.
Source: