Few things can elicit in me such feelings of culinary triumph as roasting a chicken. Something about pulling juicy, golden brown bird from the oven just makes me smile with delight and anticipation. Chicken is one of the many things I love to roast. Roast chicken is one of those time-honored dishes that never goes out of style. Simple to prepare and delicious, roast chicken makes a great springtime dish.
This recipe offers an easy way to prepare a delicious roast chicken.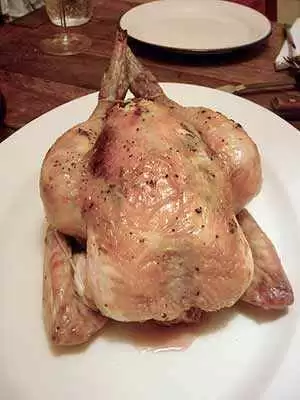 Ingredients:
1 whole, fresh roasting chicken
Kosher salt and freshly ground pepper
2 cloves of garlic, crushed
1 lemon, quartered
1 large onion, halved
3 tablespoons extra-virgin olive oil
1 pound small red potatoes
1 bunch scallions
1 bunch baby carrots
¼ cup minced thyme

Directions:
Preheat the oven to 350 degrees F. Rinse the chicken and pat dry. Rub with crushed garlic. Season with salt and pepper. Score onion and place it in the chicken cavity. Place chicken skin-side up in a baking dish large enough to accommodate vegetables.

Squeeze ½ lemon over the chicken, drizzle with 1 tablespoon olive oil and rub with thyme. Roast 30 minutes.

Meanwhile, cut the potatoes in half and cut the scallions into thirds. Toss the potatoes, carrots and the remaining 2 tablespoons olive oil in a bowl, and season with salt and pepper.

Remove the chicken from the oven and scatter the vegetables around it. Continue to roast about 35-45 more minutes, or until the vegetables are tender and the chicken is golden and cooked through. Squeeze the remaining ½ lemon over the chicken and vegetables. Season with salt.