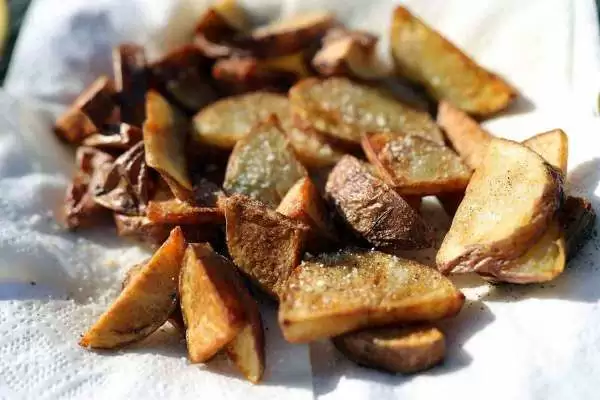 Caption: Image: CC BY 2.0--thetechhimself1
Celiac.com 02/19/2021 - If you're looking for a super simple, super satisfying dinner, then this roasted ham and potatoes is the way to go. Serve it for an easy, hearty dinner, or top it with your favorite eggs and Hollandaise, and lay it out for breakfast, lunch, or even an easy weekend brunch. It's versatile, reliable, and totally unfussy. 
Ingredients:
Dash of olive oil
1 pound fully cooked sliced ham (about ½ inch thick)
1½-2 tablespoons butter
4 medium potatoes, peeled, quartered and cooked [HOW?]
Fresh parsley, chopped
Salt and pepper to taste
---
Celiac.com Sponsor (A12):


---
---
Celiac.com Sponsor (A12-m):


---
Directions:
Tip: Soak the cut potatoes in salted ice water for 20 minutes before cooking. Salt adds flavor, while soaking removes excess starch, and creates a much crisper finish.

Add the potatoes to a large pot of salted boiling water, leaving about 2 inches of water above them, and cook for 5-7 minutes. 

Use a fork to test firmness of potatoes.

Drain parboiled potatoes in a strainer and leave to dry.  

Once dry, gently shake the strainer to rough up the surface.

Add the potatoes into a large bowl.  

Add the salt and pepper, gently stir to coat.

In a large heavy skillet, brown ham over medium-high heat in butter on both sides until heated through. 

Move ham to one side of the skillet.

Brown cooked potatoes in drippings until tender. 

Sprinkle potatoes with parsley.

If you like, go crazy and toss a fried egg on the plate. Yeah, it's okay to have breakfast for dinner.