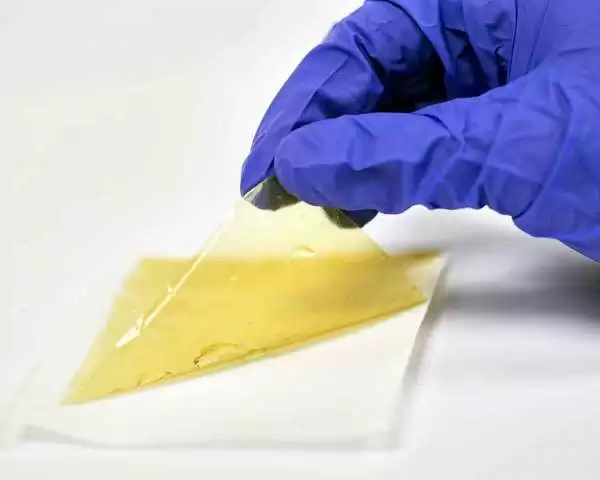 Caption: Image: CC--Oak Ridge National Laboratory
Celiac.com 04/09/2019 - Epithelial barrier loss is a key factor in many intestinal and systemic diseases. Myosin light chain kinase (MLCK) is a key effector of barrier dysfunction, and a target for a potential treatment, but enzymatic inhibition has unacceptable toxicity. 

A team of researchers recently demonstrated that a unique domain within the MLCK splice variant MLCK1 directs perijunctional actomyosin ring (PAMR) recruitment.

The research team included W. Vallen Graham, Weiqi He, Amanda M. Marchiando, Juanmin Zha, Gurminder Singh, Hua-Shan Li, Amlan Biswas, Ma. Lora Drizella M. Ong, Zhi-Hui Jiang, Wangsun Choi, Harmon Zuccola, Yitang Wang, James Griffith, Jingshing Wu, Harry J. Rosenberg, Yingmin Wang, Scott B. Snapper, David Ostrov, Stephen C. Meredith, Lawrence W. Miller and Jerrold R. Turner.

Using the domain structure and multiple screens, they revealed a domain-binding small molecule (divertin) that blocks MLCK1 recruitment without inhibiting enzymatic function. 

Divertin blocks acute, tumor necrosis factor (TNF)-induced MLCK1 recruitment, in addition to downstream myosin light chain (MLC) phosphorylation, barrier loss, and diarrhea, both in vitro and in vivo. 

The potentially exciting part is that, under experimental inflammatory bowel disease conditions, divertin corrects barrier dysfunction, and prevents disease development and progression. 

Beyond applications of divertin in gastrointestinal disease, this general approach to enzymatic inhibition by preventing access to specific sub-cellular sites offers a new model for safe and precise targeting of specific properties of enzymes with numerous functions.

The development of a safe way to inhibit MLCK1 enzyme action, and which could potentially correct gut barrier dysfunction, and prevent the development and progression of inflammatory bowel disease is exciting news.

Read more in Nature Medicine

 

The researchers are variously affiliated with the Department of Pathology, University of Chicago, Chicago, IL, USA; the Laboratory of Chemical Biology & Signal Transduction, The Rockefeller University, New York, NY, USA; Jiangsu Key Laboratory of Neuropsychiatric Diseases and Cambridge-Suda Genomic Resource Center, Soochow University, and Department of Oncology, The First Affiliated Hospital of Soochow University, Suzhou, China; the Laboratory of Mucosal Barrier Pathobiology, Department of Pathology and the Division of Gastroenterology, Hepatology and Nutrition at Boston Children's Hospital and Harvard Medical School in Boston, MA, USA; the Department of Pathology, Immunology and Laboratory Medicine, University of Florida, College of Medicine, Gainesville, FL, USA, the Department of Chemistry, University of Illinois at Chicago, Chicago, IL, USA, and Vertex Pharmaceuticals, Boston, MA, USA.