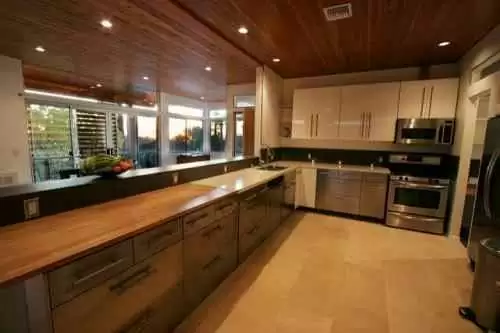 Caption: Image: CC--Jeremy Levine
Celiac.com 07/22/2016 - Some of us have the luxury of living in a household that is completely dedicated to being gluten-free. However, many of us don't have that luxury. So, there are certain precautions you must take, in order to avoid cross contamination.
Now, here is a list of helpful tips to keep in mind for your kitchen:
Always wear gloves or wash your hands thoroughly, especially if you have dermatitis herpetiformis (DH), when you are wiping down counter tops, tables and stove tops. Using paper towels would be a beneficial because you can throw it directly in the trash. As for hand towels, have a separate one for your hands.
Having a dishwasher or even a counter top dishwasher, if possible, reduces your worries. Otherwise, be sure to have different sponges when washing because they are very porous and absorbs gluten.
For your kitchenware, having glass, metal, stainless steel and ceramic would be best because plastic and wood absorb gluten as well. Just think about your flour sifters, colanders and cutting boards.
As for appliances, have separate toasters, baking mixers, convection ovens, blenders, etc.
Keep cabinets and refrigerator shelves separate, especially from foods like cakes, cookies, breads and crackers. Basically, anything that can cause a lot of crumbs. Also keep your flours and wheat flours in labeled, air tight containers, so they are completely sealed shut. You do not want flour flying everywhere.
When reheating your food, cover all your plates in the microwave.
---
Celiac.com Sponsor (A12):


---
---
Celiac.com Sponsor (A12-m):


---
Lastly, if you are following all of these instructions correctly and consistently, your celiac disease should stay under control. However, it might be best if you get your antibody levels tested at least once or twice a year by your gastrointestinal (GI) physician. That way you can see, in black and white, that all your antibodies are in range. That will prove you're keeping yourself perfectly healthy.

References: