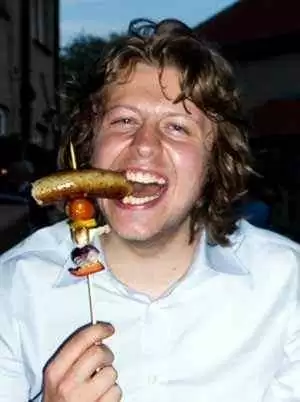 Celiac.com 08/05/2014 - Summer Grill Favorite the Kebab: Gluten Free Smoked Keilbasa Sausage with Red Onion and Bell Peppers. Celiacs Rejoice!
To make Sausage Kebabs you need:
1 Package Gluten Free Smoked Sausage Kielbasa
Red Onion
Large Bell Pepper
Bamboo Skewers
Gluten Free Honey Mustard
Olive Oil
Salt and White Pepper to taste
---
Celiac.com Sponsor (A12):


---
Directions:
Soak the bamboo skewers in water for 15 minutes before preparing the kebabs. Meanwhile, preheat broiler.
Wash the bell pepper and chop into squares about 1"-2" in size. Chop the red onion in to similar size squares. Slice the Gluten Free Kielbasa.
Thread the Kielbasa, onion and bell pepper onto the bamboo skewers. Drizzle assembled kebabs with olive oil, season with salt and white pepper to taste.
Place the kebabs on broiler pan and broil for about 10 minutes.
Remove kebabs from the broiler. Arrange on a serving plate with a small bowl of Gluten Free Honey Mustard to dip the kebabs into. Serve immediately and enjoy!