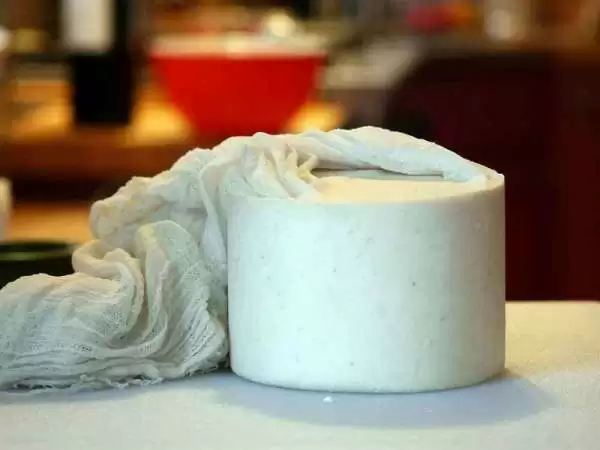 Caption: Goat cheese. Image: CC--Rebecca Siegel
Celiac.com 04/03/2019 - Butter and shallots join with beets and chard to perform a delightful dance in this tasty dish. The real star, however, is the Bucheron cheese. Other goat cheese will do in a pinch, but try to get the Loire river valley original. You'll be glad you did.
Ingredients:
4-6 beets with greens
1 bunch Swiss chard
3 tablespoons butter
1 shallot
1 pinch Salt, or more to taste
1 pinch Freshly ground pepper, or more to taste
2 tablespoons white wine
2 tablespoons water
8 ounces Bucheron, or other goat cheese (at room temperature)
1 loaf gluten-free bread, warm (I use Bread Sriously's Gluten-Free Sourdough)
---
Celiac.com Sponsor (A12):


---
---
Celiac.com Sponsor (A12-m):


---
Directions:
Scrub and peel the beets. 

Remove the greens and chop coarsely. 

Set the greens aside in a large prep bowl. 

Slice beets into ¼-inch rounds. 

Remove the ribs from the Swiss chard and coarsely chop and toss into bowl with the beet greens. In a large sauté pan, melt butter. 

Lightly sauté shallots. 

Add beet rounds to the shallot butter mixture. 

Crack some pepper over the beets and a toss on a pinch of salt. 

Reduce heat and sauté beets, turning over to ensure even cooking. 

Cook about 15 minutes until beets begin to glaze and become tender, then add greens and chard. 

Sauté for about 5 minutes, then add wine and cover. 

Cook until greens are wilted, adding water if necessary. Allow liquid to be mostly absorbed into greens, adjust seasonings. 

Scoop greens and beets into a low shallow bowl. 

Garnish with a wedge of bucheron, or other goat cheese, and some good gluten-free bread. 

Add a dash of pepper over the entire dish.