Celiac.com 07/14/2015 - French toast and BLTs are two of my many favorite things to eat. This recipe combines both to deliver a fresh, savory spin that will sure to dazzle at brunch and sizzle at lunch. Think of it as a sensible French toast, or a decadent BLT.
The key is finding a good gluten-free bread for the French toast. I use a locally bought sourdough made from long-fermented sorghum that works great. The bread I use tends to be dense and moist, so I actually toast it lightly first, then dip it and then batter and cook it. Whatever bread you choose, I'm sure this recipe will please.
---
Celiac.com Sponsor (A12):


---
---
Celiac.com Sponsor (A12-m):


---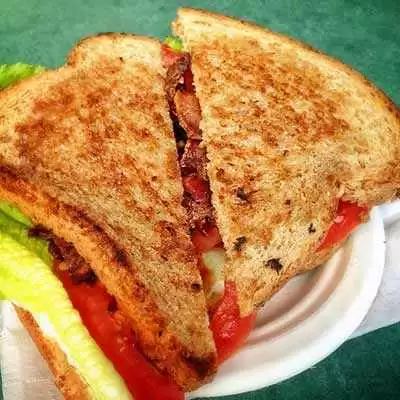 Ingredients:
8 slices of bacon
8 slices tomato
6 large eggs
4 slices gluten-free bread
4 lettuce leaves (romaine, Boston, or Bibb)
½ cup heavy cream
¼ cup fresh chives, chopped
3 tablespoons unsalted butter
2 tablespoons mayonnaise
Coarse salt
ground pepper
Directions:
Cook bacon in a frying pan until golden and crisp. Drain on paper towels.
Meanwhile, in a large shallow dish, whisk together 2 eggs, cream, chives, and a dash of salt and pepper.
In a large skillet, melt butter over medium heat until butter begins to sizzle.
Dip bread in egg mixture and place in pan.
Cook until golden and crisp around edges, about 3 minutes per side, flipping once.
Put French toast on a plate.
Add butter to frying pan and fry 4 eggs.
To each slice of French toast, add mayonnaise as desired, a layer of lettuce, tomato, and bacon, and top with fried egg and chives.
Serve open face.