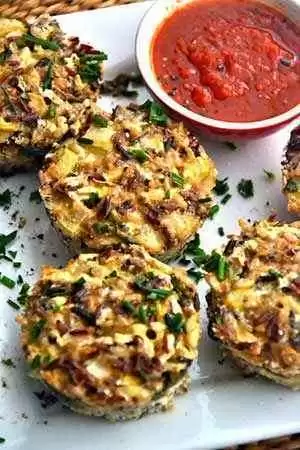 Caption: The finished savory quinoa muffins.
These savory muffins make the perfect dessert, or just have them for a snack!
Gluten-Free, Dairy-Free and Vegetarian
---
Celiac.com Sponsor (A12):


---
---
Celiac.com Sponsor (A12-m):


---
Ingredients:
1 cup uncooked quinoa
2 large eggs
1 cup Vidalia onions, finely chopped
1 cup dairy-free shredded mozzarella cheese
3 garlic cloves, minced
1/2 cup fresh cilantro, finely chopped
1/3 cup grape tomatoes, diced
1/2 tsp. sea salt
1/2 tsp. freshly ground pepper
1 tsp. chili powder
2 chives, finely chopped, for garnish
2 cups salsa, for serving
Instructions:
Cook quinoa according to package directions. Prepare muffin pan with nonstick baking spray.
Preheat oven to 350 degrees F.
In a large bowl, combine cooked quinoa with remaining ingredients, except chives and salsa; mix well to combine.
Transfer quinoa mixture to prepared muffin pan. Using a tablespoon, fill each muffin cup to the top, then using a spatula, press down on the mixture to create a flat surface.
Bake for 20 minutes or until golden brown. Remove from oven; set aside to cool for 15 minutes. Using a teaspoon, gently remove quinoa muffins from the muffin cups.
Transfer to a serving platter; serve with a sprinkle of fresh chives and a side of salsa for dipping.
Enjoy!