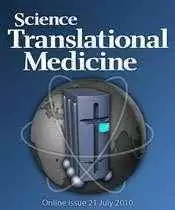 Caption: New Science Translational Medicine research on celiac trigger
Celiac.com 07/23/2010 - In a breakthrough that may pave the way for the development of the first drug treatments for celiac disease, researchers claim to have identified the molecular triggers for the chronic, painful gut disorder.
Since people with celiac disease must remain gluten-free for life, and since many foods are contaminated with gluten, many people with celiac disease are at risk of developing intestinal damage and other associated problems over time, says Robert Anderson, senior author of the study, and head of the celiac disease research laboratory at the Walter and Eliza Hall Institute of Medical Research in Parkville, Australia.
However, he adds, a lack of understanding about how gluten triggers the immune system response in celiacs has prevented researchers from pursuing such therapies.
Gluten is actually made-up of numerous different protein strands, and, until now, no one has teased out just which protein strands are inducing the immune response seen in celiac disease.
To design drugs that will effectively treat celiac disease, scientists must first understand exactly which of the gluten molecules are triggering the immune response.
For their study, Anderson and his associates analyzed immune responses in blood samples from more than 200 celiac disease patients who had eaten meals containing gluten.
The team then performed thousands of gluten challenges on the samples using isolated fragments of gluten protein. Interestingly, of the thousands of gluten fragments they tested, only three of them triggered an immune reaction.
That only three of the thousands of protein fragments in gluten provokes an immune response suggests that "a very precise trigger is driving the immune response" in celiac disease, Anderson said. "The problem is not so much gluten, it's really these three peptides."
The authors also noted that most of the immune response to gluten appears tied to a single type of immune system cell, called the T cell. Their results appear in the July 21 issue of Science Translational Medicine.
According to Dr. Alessio Fasano of the University of Maryland School of Medicine in Baltimore, even with strong evidence against the three peptides in question, there may be more to the story. It's possible that the study missed other offending protein fragments, and that there are more players in the adverse immune response in people with celiac disease.
Interestingly, sequences from ω-gliadin (wheat) and C-hordein (barley), rather than α-gliadin, proved to be the immunodominant trigger, regardless of the grain consumed.
But before folks with celiac disease get too worked up about a possible cure, they need to remember that, because the study looked at patients with a particular genetic susceptibility to the disease, the findings do not apply to all people with celiac disease.
Although most people with celiac disease share this genetic background, others do not. That means the findings won't apply to everyone with the disease. Anderson and his colleagues are currently working to identify which gluten proteins induce the immune response in the other celiac patients.
The limited diversity of pathogenic T cells in celiac disease indicates that researchers should be able to develop peptide-based treatments for both celiac disease and likely for other HLA-restricted immune diseases.
Phase I clinical trials of a drug based on the three isolated fragments of gluten protein are currently underway in Australia.
Researchers hope the drug will successfully desensitize celiac patients by introducing small amounts of the offending proteins under controlled conditions. They expect results within the next couple of months.
The current study received funding from Nexpep, the Australian National Health and Medical Research Council, Coeliac UK, the Coeliac Research Fund, and others.
Source: