Like chicken? Like mushrooms? Looking for a quick, delicious meal that will put smiles on the faces at your table?
Here is a recipe for chicken breast that relies on a few simple ingredients to deliver a tasty meal that will make for happy eaters, and leave you with plenty of time to spend doing something besides cooking. This chicken breast goes great with rice or potatoes.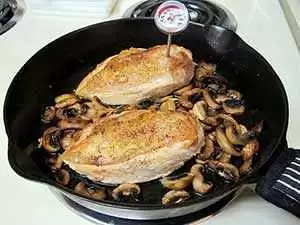 Ingredients:
4 skinless, boneless chicken breast halves - pounded thin
8-10 fresh brown mushrooms, sliced
3 tablespoons unsalted butter, divided
1 tablespoon olive oil
2 shallots, chopped
2 clove garlic, sliced
⅓ cup dry sweet white vermouth
½ cup chicken broth
salt and pepper to taste

Directions:
Heat olive oil and butter in a large skillet over medium heat.

Season chicken with salt and pepper, and brown on both sides in the skillet. Cover, and cook another 10 minutes, or until chicken juices run clear. Set aside, and keep warm.

Mix mushrooms, shallots and garlic into skillet over medium heat, and cook until tender. Stir in vermouth, and cook until heated through. Stir in broth, and cook another 5 minutes or so, until reduced and slightly thickened. Add remaining butter, and stir until melted.

Spoon the sauce over the chicken, and serve.