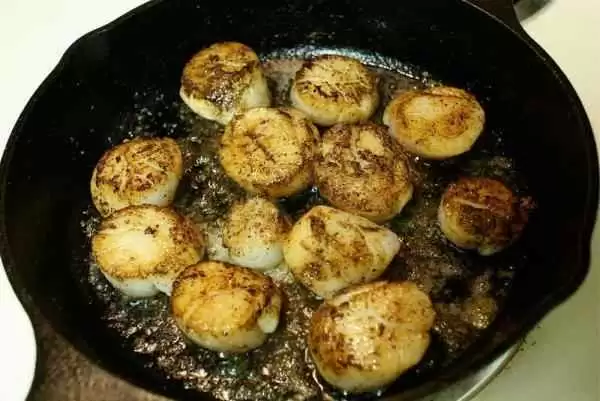 Caption: Searing scallops. Image: CC--Naotake Murayama
Celiac.com 03/20/2018 - Juicy, delicious scallops get the cold-weather treatment with this delightfully simple recipe. These lightly spiced scallops are a perfect way to celebrate the approach of spring, while winter still digs in for a fight.  They go great with your favorite white wine, and are sure to leave your diners smiling. Butternut squash and warm spices make a base for fresh sea scallops in this tasty gluten-free entree .
Ingredients:
12 medium sea scallops
1 package butternut squash
1 tablespoon butter
1 pinch cayenne pepper
½ teaspoon ground ginger, separated
½ teaspoon ground coriander
¼ teaspoon ground cinnamon
2 tablespoon quality cooking oil
salt
pepper
---
Celiac.com Sponsor (A12):


---
---
Celiac.com Sponsor (A12-m):


---
Directions:
Bring salted water to a boil in a covered stockpot. Add squash; cook 13 to 15 minutes or until very tender. Drain well. 

Transfer to food processor along with butter, cayenne, ⅛ teaspoon ground ginger, and ⅛ teaspoon salt.

While squash cooks, pat scallops dry with paper towels. In small shallow bowl, combine coriander, cinnamon, ¼ teaspoon ginger, and ¼ teaspoon black pepper. 

Sprinkle scallops with ¼ teaspoon salt to season both sides. Press 1 side of each scallop into spice mixture; set aside, spice sides up.

In 12-inch skillet, heat oil on medium-high to a point just below smoking. 

Add scallops, spice sides down. Cook 2 to 3 minutes or until browned. Turn over; cook 2 minutes or until golden brown and opaque in center. Remove from heat.

Purée squash until smooth. Divide between serving plates, and top with scallops. 

Garnish with chives. Grab your favorite wine or gluten-free beer, and dig in.