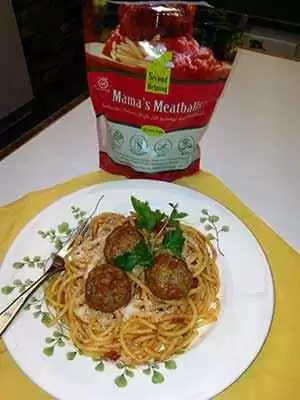 Over the weekend I tried Second Helping's "Mama's Meatballs" and was pleasantly surprised. They are authentic, Italian style gluten-free meatballs that are made with all natural beef. In addition to being gluten-free they are also dairy/casein, nut and soy-free, and are non-GMO.

The first thing I noticed about them is that they are good-sized and not greasy. It doesn't say low fat on the package, but to me it seems like they must be made from leaner, lower fat beef than most meatballs I've had, which I really like. They also have a very even, fine consistency, as though the beef is very finely ground, and again, perhaps leaner.
---
Celiac.com Sponsor (A12):


---
---
Celiac.com Sponsor (A12-m):


---
The meatballs are perfectly seasoned with the usual Italian herbs, and I appreciate that they did not overdo it with the seasonings, as can be the case with other prepared meatballs I've tried.

Here is another great product that makes life easier for those with celiac disease. Gluten-Free meatballs can take a lot of time and effort to make, and they usually don't turn out this good, so I normally just go without. Now I can simply keep a bag of these in my freezer or refrigerator for the moment that the spaghetti and meatballs craving hits me, and serve them on top of my favorite pasta and sauce!

For more info, visit their site.

 

 

 

Note: Articles that appear in the "Gluten-Free Food Reviews" section of this site are paid advertisements. For more information about this see our Advertising Page.