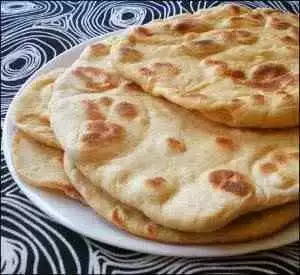 Celiac.com 09/28/2012 - Breadfruit is a starchy fruit that grows mainly in the Pacific Islands. It is highly nutritious, with high fiber, potassium and vitamin C content, as well as a low glycemic index. Signa Haiti's Gluten-Free 100% Breadfruit Flour captures these nutritive qualities and makes a tasty wheat flour alternative.
I am a huge fan of Indian food, so when I saw that Signa Haiti has a recipe for garlic naan on their website, I got very excited. It wasn't quite as 'puffy' as what I'm used to, but it was still quite good, with a subtle 'potatoey' taste that went very well with saag paneer.
---
Celiac.com Sponsor (A12):


---
---
Celiac.com Sponsor (A12-m):


---
There are a bunch of recipes on the Signa-Haiti recipe website that I'm going to try, including Haitian cereal, a sort of cream of wheat alternative. This flour shows promise and I think it would do very well in a blend with quinoa flour.