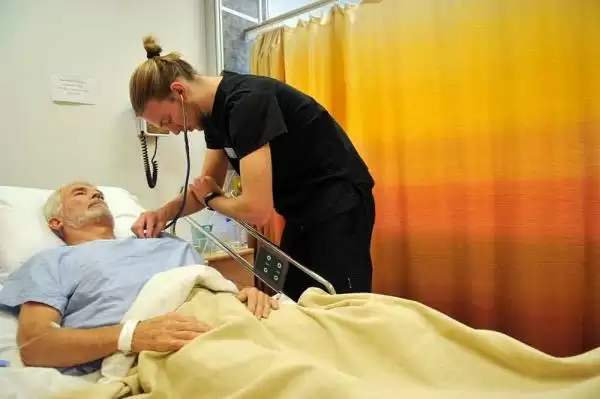 Caption: Image: CC--University of the Fraser Valley
Celiac.com 01/29/2019 - Serology-based criteria for adult celiac disease have excellent pre-test accuracy, but can they be helpful in spotting celiac disease without biopsy? New criteria for diagnosing celiac disease in children allow doctors to forgo duodenal biopsies in children who have symptoms, positive blood tests, and celiac disease-associated genes. However, there's currently no good data on whether such an approach might work for adults with certain clinical presentations of celiac disease.
A team of researchers recently set out to evaluate the accuracy of serology-based criteria in adults with variable pre-test probabilities for celiac disease.
The team compiled three study groups, including 421 adults with high-risk clinical celiac disease suspicion, 2,357 moderate-risk family members of celiac patients, and 2,722 low-risk individuals from the general population. 
They collected blood tests and other physical patient data. Their "triple criteria" for celiac disease included transglutaminase 2 antibodies more than ten times the upper limit of normal, positive endomysium antibodies, and appropriate genetics, but required no symptoms. The diagnosis was made by grading the intestinal biopsies.
Can a Biopsy be Avoided when Diagnosing Celiac Disease?
In all, 274 patients were diagnosed with celiac disease. Of these, 59 high-risk subjects, 17 moderate-risk subjects, and 14 low-risk subjects fulfilled the "triple criteria." 
All had histologically proven celiac disease, giving the criteria a positive predictive value of 100%. Altogether, 90 of the 274 newly diagnosed patients could have avoided biopsy. That's one in three patients who could have avoided biopsy. In all, 37% of high-risk, 20% of moderate-risk, and 48% of low-risk patients could have avoided biopsy. 
Biopsies of "triple positive" subjects showed no histological findings other than celiac disease. The results of this study are exciting, because they show that the "triple criteria" can be used by doctors to reliably spot celiac disease in adults without using biopsy. 
Implementing these diagnostic criteria would make diagnosing celiac disease easier in many cases, and will reduce the number of endoscopies by one-third. That's a winning result all the way around.
Read more at: Aliment Pharmacol Ther. 2018 Dec 27. doi: 10.1111/apt.15109.