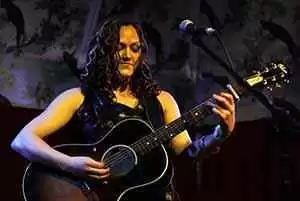 Caption: Photo: CC-- Man Alive!
Celiac.com 12/07/2012 - In a recent interview with S.Z. Berg, singer/guitarist Allie Moss, who is best known for her single "Corner," discusses being diagnosed with gluten sensitivity, and adjusting her diet habits to regain her health.

For Moss, her journey to the diagnosis began a few years back when she was diagnosed with acid reflux. She did not suffer from classic acid reflux symptoms, like heartburn. However, she did notice that she felt bloated and unhealthy even though she ate a fairly healthy diet. Her doctor had prescribed medication, and sent her on her way. However, Moss began to feel that the prescription was causing more problems than it was solving.

Seeking an answer that would provide her some relief, she went to see a holistic doctor of nutrition. After considering her symptoms, the nutritionist suggested that she suffered from low, rather than high, acid, along with gluten sensitivity.

Less than a week after she began her gluten-free diet, Moss said that she noticed substantial improvement, like she had been in a fog than suddenly lifted. She told Berg that she now feels "more alert and energetic overall," that her digestion "has improved dramatically, [her] skin is clearer, and [her] voice feels great."

As a result, Moss says that she is rising to the challenge by changing the way she cooks at home, and the way she eats on the road. She makes sure to keep gluten-free food options on hand, "things like salad fixings, hard-boiled eggs, and gluten-free bread…" She also uses the website and iPhone app called Find Me Gluten Free, which she calls "a lifeline."

Read the complete interview at Huffingtonpost.com.