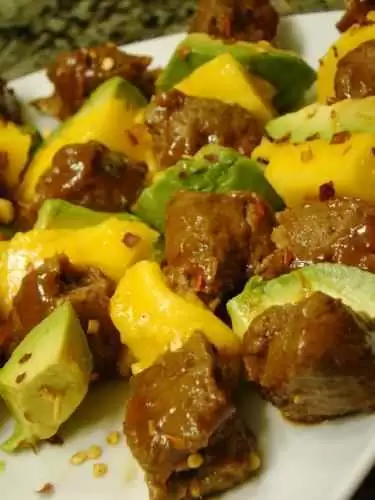 Caption: Seitan. Photo: CC--Vegan Feast Catering
Celiac.com 02/09/2018 - A newlywed couple have raised accusations of sick guests, inappropriate food, and breach of contract in filing suit against wedding vendors they say ruined their surprise vegan wedding, which was also to include gluten-free snacks for some guests.
The wedding took place in May, 2017, and by Christmas, the family had already filed suit in Ramsey County against vendors Mintahoe, Inc., A'Bulae, LLC, and Bellagala for breach of contract. The lawsuit states the venue choice near Mears Park in downtown St. Paul was "absolutely contingent" on their commitment to provide a "delicious" vegan dinner to wedding guests.
---
Celiac.com Sponsor (A12):


---
---
Celiac.com Sponsor (A12-m):


---
According to the couple, the main idea was to serve delicious food that guests would not suspect was "an entirely plant-based meal." The couple intended for the surprise to be revealed at the end of the night, when servers were to put out signs announcing that the entire meal had been vegan.

Among the claims made by the family of the bride and groom are that a guest with celiac disease ate a seitan skewer that she believed was gluten-free, but which actually contained gluten, and that the guest became "very ill" as a result. The couple says the hotel's pastry chef took home the leftover vegan wedding cake the couple had ordered from an off-site vendor, instead of making sure it went to the wedding party.

The couple's complaints go on to cite a litany of perceived offenses, including "horrific" food and service, "missing" bamboo shoots bean sprouts, too many carrots, and "horrific…sickeningly sweet," sauce that was not the peanut sauce they expected.

The couple also complains that the groom's room before the wedding was "extremely hot and stifling," and disputes the cost of the menu for the wedding, which was mostly Thai food. In fairness, though, their main complaint seems to be that the food was terrible, rather than the fact that it wasn't vegan.

The couple and mother-of-the-bride are seeking $21,721 for each of the seven counts of breach of contract, totaling $152,047, along with an award of damages to be determined at trial.

What do you make of the situation? Right on the money, or a gluten-free bridge too far?

Source: KTSP