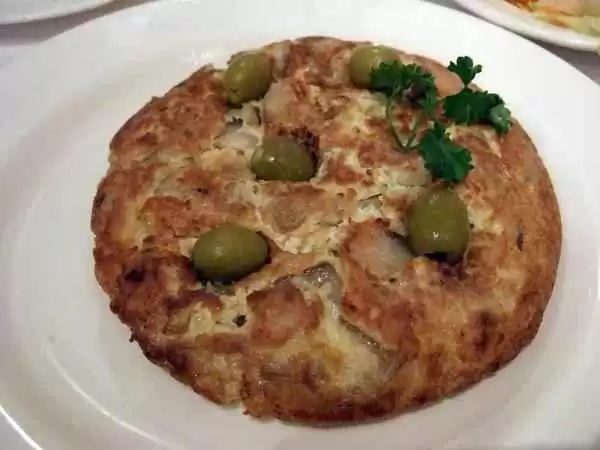 Caption: Image: CC--pelican
Celiac.com 04/28/2018 - Looking for a tasty, memorable, gluten-free dish to star in your next breakfast or brunch production? This Spanish-style egg and potato omelette is just the thing. A simple blend of eggs, onions and potatoes is coaxed into a delicious, memorable entreé.
For the eggs and potatoes:
1 pound Yukon Gold or other yellow potatoes
9 large eggs
¾ cup extra-virgin olive oil
1 medium yellow onion
Coarse sea salt
Freshly ground black pepper
---
Celiac.com Sponsor (A12):


---
---
Celiac.com Sponsor (A12-m):


---
For the herbed mayonnaise:
Handful of fresh dill. Or any blend of any herbs you like, including mint, basil and thyme
⅓ cup mayonnaise
½ lemon
For the eggs and potatoes: 
Heat the oil in a 9-inch cast-iron or ovenproof skillet, over medium heat. 
Rinse and cut the potatoes into ¼-inch rounds, placing them flat in the skillet as you work. 
Peel the onion and cut into thin slices, adding them to the pan. 
Cook for about 10 minutes, stirring occasionally so the potatoes brown on both sides and don't stick to the pan.
Strain oil through a heatproof colander into a heatproof bowl. 
Position an oven rack 6 inches from the heated broiler element. 
Put aside at least 1 tablespoon of the onion-flavored oil; you can save the rest to use again later.
Whisk the eggs in a large bowl, then season generously with salt and pepper. Add the drained potato-onion mixture and stir to coat.
Coat the empty skillet with reserved oil and heat to medium high.
Pour in the egg-potato mixture. Reduce the heat to medium-low; cook for about 5 minutes, until the edges are just set. 
Transfer to the oven and broil about 3 minutes, or until puffy and golden brown.
Prepare the herbed mayo by mincing the dill or other herbs, and place in medium bowl, along with the mayo. Squeeze in the juice from the ½ lemon, stirring until well mixed.
Use a thin spatula to loosen around the edges of the eggs and then under them. Slide cooked eggs and potatoes out of the pan and onto a cutting board. 
Sprinkle with a dash of salt, and allow to rest a few minutes. 
Cut into 6 equal wedges, and serve warm or at room temperature, with dollops of the dill mayonnaise.