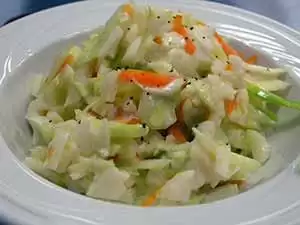 Caption: The finished spring-time cole slaw. Photo: CC--steakpinball
I guess I'm what you'd call a coleslaw purist. I never liked it much as a kid, and once I started to like it as an adult, I developed a taste for the most basic coleslaws. I don't want any jalepeños, or other snappy flavors, like whacky, sun-dried tomato aioli in my coleslaw.
In my distinctly modest opinion, coleslaw should never, ever be made with Miracle Whip. In my opinion, no one should ever even eat Miracle Whip, but, I digress.
---
Celiac.com Sponsor (A12):


---
---
Celiac.com Sponsor (A12-m):


---
Here's a simple, tasty recipe for coleslaw that will make a proud hit at your next barbecue or fish-fry.

Ingredients:
6 cups shredded cabbage
1 cup shredded carrot
1 cup mayonnaise
½ teaspoon celery seed
¼ cup white wine vinegar
¼ cup sugar
Salt and pepper, to taste

Directions:
Combine cabbage and carrots in a large bowl. In a smaller bowl, combine mayonnaise, vinegar, celery seed, sugar, salt and pepper. Mix dressing into cabbage mixture to taste, and chill in the refrigerator. Serve alongside your favorite dishes.