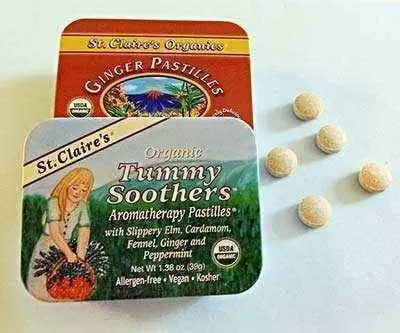 Celiac.com 08/11/2015 - St. Claire's Organics makes many fine candies, but since I have celiac disease I am especially interested in ones that offer more than just flavor.
St. Claire's Organics Tummy Soothers and Ginger Pastilles contain medicinal herbs like ginger, slippery elm, cardamom, fennel and peppermint which have been used for centuries to treat stomach and other ailments. It is nice to see a company that understands the benefit of blending them into their candies to offer their customers more than just taste.
---
Celiac.com Sponsor (A12):


---
---
Celiac.com Sponsor (A12-m):


---
Neither of these gluten-free products contained dairy, casein, corn, soy, egg, nut, fish or shell fish, and both were also vegan, Kosher and GMO-free. Another big plus was that neither of these "candies" tasted too sweet, which I really liked—the sugar taste did not overpower the taste of the herbs.

The Ginger Pastilles had a distinct—but not overpowering—ginger flavor that left a very nice, clean aftertaste. The Tummy Soothers had a slightly minty herbal flavor that was very pleasant. Although I did not have a stomach ache when I tried these, I have the feeling that they really would be very helpful to anyone who did.

Both of these candies provide interesting and unique flavors that you just can't find anywhere else except in products made by St. Claire's Organics.

For more info visit their site.