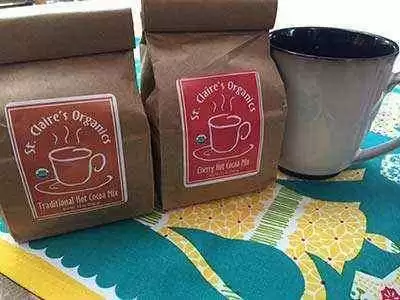 Celiac.com 09/30/2015 - I recently received samples of St. Claire's Organics Traditional and Cherry Hot Cocoa Mixes. For many years I've been aware of their (now world famous) St. Claire's Organics Pastilles, but I did not know that they also made cocoa mixes.
Both cocoa mixes are dairy-, casein-, corn-, soy-, egg-, nut-, GMO- and gluten-free, and are also vegan. In fact, their only ingredients, as one might expect from products made by St. Claire's, are high quality organic molasses granules, organic cocoa powder, organic cocoa nib extract, and, in the Cherry Cocoa—organic cherry flavor.
---
Celiac.com Sponsor (A12):


---
---
Celiac.com Sponsor (A12-m):


---
The directions to make either mix are very basic: I added two tablespoons of the mix to a 6 oz. mug of hot water and stirred it well. You can, of course, use coconut milk or other favorite milk instead of water.

The first thing I noticed when stirring the Traditional Cocoa Mix was the wonderful aroma that filled my office—the smell of hot chocolate really can't be beat. The Cherry Cocoa Mix offered a unique cherry aroma that blended perfectly with the chocolaty scent.

The rich chocolate flavor of the Traditional Cocoa Mix was simply exceptional. I can't remember when I've had such an excellent cup of hot cocoa. The Cherry Cocoa was a total surprise—to my delight the light cherry flavor mixed perfectly with the rich chocolate taste.

In the end it was a tie—both cocoa mixes were just too good to pick a favorite!

For more info visit their site.