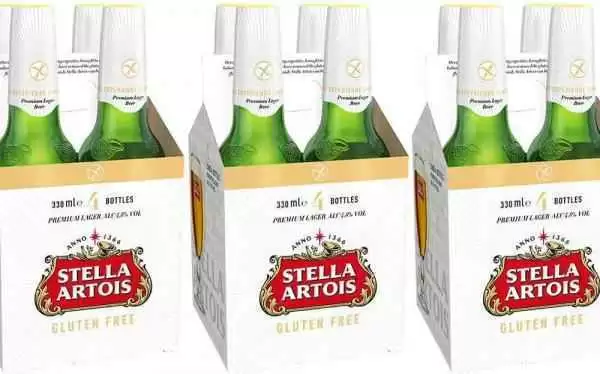 Caption: Image: Stella Artois
Celiac.com 07/30/2018 - In what looks like great news for UK beer drinkers, beverage giant AB InBev has announced plans to launch a gluten-free version of its popular and widely distributed Stella Artois lager in the UK. Stella Artois Gluten Free will hit UK grocery shelves in August in 4-packs of 330ml bottles, before a more comprehensive roll out this fall. 
AB InBev said that Stella Artois Gluten Free "will maintain the high quality and exacting standards of the original Stella Artois recipe," and will use the same four natural ingredients. The final product will use a specific protein to remove gluten, which the company claims has no affect on the beer's flavor or other characteristics.
---
Celiac.com Sponsor (A12):


---
---
Celiac.com Sponsor (A12-m):


---
Stella Artois Gluten Free will be displayed outside traditional alcohol aisles, raising brand visibility. AB InBev is clearly motivated by sales and revenues in the rapidly growing gluten-free market. The company noted that UK sales of free-from products grew 36% between 2016 and 2017, while revenues from gluten-free beer sales rose 83%.

Stella Artois Europe marketing director Alexis Berger says that the company is "incredibly excited to be…making the UK's favorite beer brand more accessible to those who follow a gluten-free lifestyle."

Making Stella Artois gluten-free will allow gluten-free consumers, to enjoy "the UK's number one selling alcohol brand," Berger added.

No word on whether AB InBev will be making Stella Artois Gluten Free available in the United States. Read more in this press release.

Are you a beer drinker who appreciates a good gluten-free lager? Let us know your thoughts on the news that Stella Artois Gluten Free will soon be a thing, if only in the UK for now. Also, please be sure to let us know your thoughts if you get a chance to try the product.