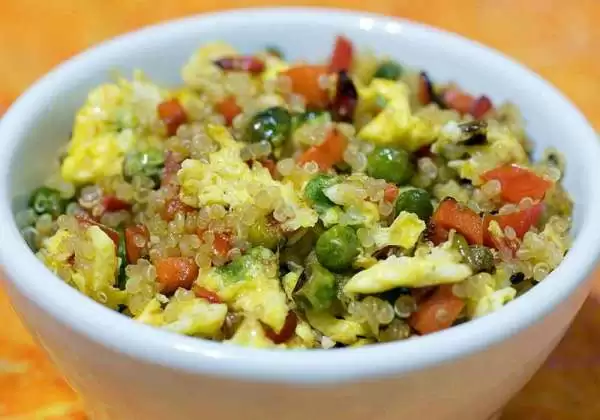 Celiac.com 03/30/2019 - Need a super quick gluten-free dish that's nutritious, delicious and vegetarian friendly? This stir-fried quinoa is sure to do the trick. This recipe is a simple blend of cooked quinoa, onions, peas, carrots, and corn. Add some spices, cook a bit, and finish with some fresh scallions, and you can call it dinner.
Ingredients:
2 cups quinoa
1 quart of chicken broth
2 eggs
½ medium onion, diced
1 16 oz bag frozen mixed peas, carrots and corn (or go fresh if you like)
1 red bell pepper, seeded and diced
¼ cup gluten-free soy sauce
1 teaspoon ground ginger
1 tablespoon cooking oil, plus 1 teaspoon
¼ cup fresh scallions, chopped
Salt and pepper
---
Celiac.com Sponsor (A12):


---
---
Celiac.com Sponsor (A12-m):


---
Directions:
Cook the quinoa according to directions in chicken broth in a medium saucepan about 15 minutes until tender. For best results, make quinoa a day in advance.

In a large sauce pan, sauté onion in 1 teaspoon of oil until clear.

Add veggies to onions, and cook until veggies are tender, but firm.

Drain off any liquid from cooking, and set veggies aside.

Heat oil to medium high in a large frying pan.

Add quinoa, and stir to loosen grains. 

Toss in the vegetable mix, soy sauce, ginger and salt and pepper to taste. 

Stir and cook for a minute or so more.

Form a clear spot in the bottom of the pan, and add an egg.

Stir egg until it begins to hold together, then incorporate into the rest of the quinoa.

Add scallions, and cook, stirring, until done, about 1 more minute.

Remove from heat and serve in bowls.

Option: Add leftover beef, chicken or pork, finely chopped.