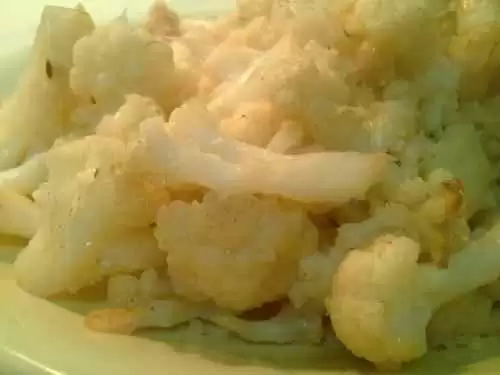 Caption: Image: CC--Lablascovegmenu
Celiac.com 09/08/2017 - When you or a loved one has celiac disease there is often a plethora of dishes made with rice. Tired of plain old rice in most of your meals? Try cauliflower rice instead! Stir fry is easy and quick to make for company, family meals, dinner, during the week or weekend. It's even delicious for lunch.
Use different proteins to change the flavor profile. This stir fry can use protein of choice such as tofu, mung beans, beef, seafood, pork or chicken. Fun to mix it up and use cauliflower rice instead of the usual brown or white rice! I used pork for this recipe. It was eaten so fast there were no left overs in our house.
---
Celiac.com Sponsor (A12):


---
Ingredients:
Thick pork chop boneless, cut into small cubes (or other protein about 1 lb.)
Riced cauliflower (buy pre-made packaged or use your food processor to pulse fresh uncooked chopped head of cauliflower into rice size pieces)
1 carrot, peeled and chopped
1 small onion, peeled and chopped
1 celery rib, strings removed and chopped
1.5 lbs. chopped veggies like mix of mushrooms, snow peas, bell peppers and water-chestnut (*fresh or frozen)
1 garlic clove, crushed, peeled and minced
½ inch piece of fresh ginger root, peeled and minced
1 cup gluten-free vegetable broth
2 tbs gluten-free soy sauce or gluten-free Tamari sauce
1 tbs sugar
1 tbs gluten-free rice wine vinegar
1 tsp gluten-free corn starch
2 tbs cooking olive oil for stir fry
¼ cup fresh green onion sliced thin or fresh cilantro leaves for garnish, optional
Salt and pepper to taste
Directions:
First make the sauce: mix the broth, gluten-free soy sauce, sugar, rice wine vinegar and cornstarch in a bowl with a whisk or fork, combine well. Let sit aside while cooking.
Heat oil to stir fry in a wok or large fry pan over medium-high heat. When oil is very hot add the protein, I used chopped pork. Brown the protein. Season lightly with salt and pepper then remove cooked pieces and set aside on a plate with a paper towel to drain any excess oil off.
Next, add the bell peppers, onion and celery then stir occasionally until tender. Add the remaining vegetables and add the cauliflower rice. Stir fry for 2 minutes, stirring in the garlic and ginger. Stir frequently for about another 30 seconds to a minute.
Add the cooked protein back to the pan or wok. Stir with other ingredients to mix well. Then pour the sauce (give it a quick stir before adding) into the pan and let bubble to thicken a minute and remove from heat. Let set a minute or two and then serve in bowls with the green sliced onion or cilantro leaves, sprinkled on top as garnish.
Note: Can reserve the cauliflower rice to the side; cook it separate and serve the veggies and meat mixed with sauce- served over the plain cauliflower rice instead.