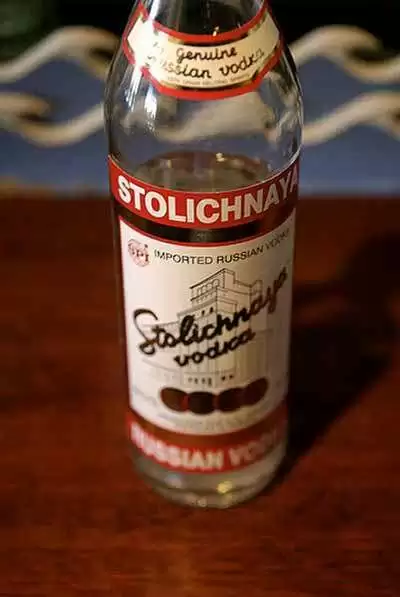 Caption: Makers of Russia's Stolichnaya vodka will are introducing Stoli Gluten Free. Photo: CC-- THOR
Celiac.com 04/01/2016 - With one in five consumers looking to buy more gluten-free foods in the future, and over a quarter of people buying gluten-free foods simply because they feel better doing it, the pressure is on product manufacturers to find ways to introduce gluten-free labels into existing product lines.
So it is perhaps unsurprising that the makers of Russia's Stolichnaya vodka are planning a gluten-free twist with their newest vodka. The long-established Russian brand is introducing Stoli Gluten Free in April.
---
Celiac.com Sponsor (A12):


---
---
Celiac.com Sponsor (A12-m):


---
If you say that all vodka is already gluten-free, you would be technically correct, as the fermentation and distillation process removes all gluten. But, to label and market a vodka as gluten-free, it must be made with all gluten-free ingredients to begin with. Stoli Gluten Free will be made from 88 percent corn and 12 percent buckwheat.

Vodka sales still account for the largest segment of the U.S. spirits market, coming in at about 32 percent of all alcohol sold. But, over the last decade vodka has faced competition, both from newer vodka brands and from changing tastes. With growing numbers of American drinkers now favoring darker spirits like whiskey and rum, vodka sales have slowed dramatically.

"The reality today is that gluten-free is a lifestyle that more and more consumers are engaging in," said Stoli Group USA Chief Executive Patrick Piana. adding that gluten-free products look to be "a significant category in the future."

Judging from Stolichnaya sales last year, they know what they are doing. Piana says Stoichnaya sales for 2015 were up 5 percent in 2015, compared to just 1.8 percent for the industry as a whole, as reported by the Distilled Spirits Council of the United States.

So, there you have it. Stolichnaya is betting on gluten-free vodka, and it will soon likely be available at a bar or store near you.