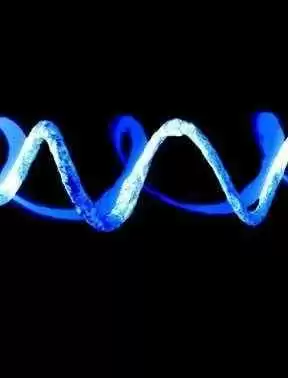 Caption: New link between celiac & Crohn's disease. Photo--DNA strand: CC- Mark Cummings
Celiac.com 02/18/2011 - In their search for a deeper understanding of the connections between celiac disease and Crohn's disease, scientists have begun to focus on genetic variants that trigger inflammation in the gut.
A research team examining associations between celiac disease and Crohn's disease has now confirmed four common genetic variations between the two diseases.
Better understanding the genetic connections will likely pave the way for new treatments for symptoms common to both conditions, such as inflammation.
The study used a new method of analysis called a genome-wide association study, or GWAS. This allows researchers to look at hundreds of thousands of genetic variations, called single nucleotide polymorphisms, or SNPs, that may be involved in any one disease.
The research team compared 471,504 SNPs, representing the genomes of about 10,000 people, some of whom had Crohn's disease, some of whom had celiac disease, and others who were healthy.
They found four genes that seemed to raise the risk for both diseases. Two of these genes, IL18RAP and PTPN2, had already been associated with each disease.
Another, called TAGAP, had previously been identified as a risk factor in celiac disease, but was newly associated with Crohn's disease.
The fourth gene, PUS10, had been previously been tied to Crohn's disease, celiac disease, and ulcerative colitis.
Three of the four genes seem to influence immune system response to perceived threats.
"The first three we can say are involved in T-lymphocyte function," Rioux says. "They seem to have a role to play in how these cells respond to a given stimulus."
In celiac disease, gluten-induced intestinal inflammation causes damage that prevents the intestine from absorbing nutrients in food. This can cause a wide range of problems, from anemia to osteoporosis to lactose intolerance.
In Crohn's disease, inflammation of the digestive tract often causes the bowel to empty frequently, resulting in diarrhea, among other problems.
Some research shows that people with one condition are more likely to have the other. One study, for example, found that more than 18.5% of people with Crohn's disease also have celiac disease.
The study has "completely changed the way we can identify genetic risk factors," says study co-author John D. Rioux, PhD, an associate professor of medicine at the University of Montreal, in Quebec, Canada.
"There are sequence differences at the genetic level that get translated down to the protein levels," Rioux notes. "And these differences may really nudge a person toward inflammation."
He adds that "we're just in the beginning, but we hope they may elucidate a common pathway and one day help us discover treatments that correct the underlying genetic changes."
Source: