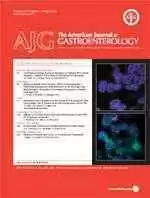 Caption: New study on gluten intolerance without celiac disease appears in the latest AJG.
Celiac.com 02/14/2011 - In what may seem for some like an obvious finding, a team of Australian researchers has shown that people can suffer gluten intolerance without having celiac disease. Their study is published in The American Journal of Gastroenterology.
I say obvious, because many in the celiac and surrounding community have long understood and accepted the concept of gluten-intolerance as distinct from celiac disease. Surprisingly, there has been very little scientific research to establish the existence of gluten-intolerance as distinct from celiac disease. That is changing, and the recent Australian study offers some support for gluten-intolerance as distinct from celiac disease.
The 34 volunteers were all fed bread and muffins, half of which contained gluten, half of which were gluten-free. Nearly 70 per cent of the volunteers who ate the gluten reported pain, bloating, toilet problems and extreme tiredness.
''Gluten is indeed a trigger of gut symptoms and tiredness,'' the researchers concluded. Professor Gibson said: ''These symptoms have a big impact on quality of life. But conservative medicine has not been so good at dealing with this because we haven't had any evidence.''
A number of the volunteers had sought help from alternative health practitioners, a fact that impaired recruitment of volunteers, as many of these folks had adopted a gluten-free diet without proving or disproving celiac disease via colonoscopy and biopsy.
It was important for the team to exclude celiac disease for several reasons, including the fact that although it was safe to use gluten to test people who may have an intolerance, it could harm people with celiac disease.
"If you go back on gluten while you have celiac disease - even if you only eat a few pieces of bread - you will damage your body and undo many months of healing," Professor Gibson said.
For that reason, and also to prove gluten intolerance alone was the symptom cause, the team recruited people  clinically proven to be free of celiac disease, and who were already on gluten-free diets.
For those patients with irritable bowel syndrome, excluding celiac disease, who were symptomatically controlled on a gluten-free diet, the team crafted a double-blind, randomized, placebo-controlled re-challenge trial.
Participants received either gluten or placebo in the form of two bread slices plus one muffin per day with a gluten-free diet for up to 6 weeks. The team evaluated symptoms using a visual analog scale and markers of intestinal inflammation, injury, and immune activation monitoring.
A total of 4 men and 30 women between the ages of 29–59-years old completed the study as per protocol. Overall, 56% showed human leukocyte antigen (HLA)-DQ2 and/or HLA-DQ8. Adherence to diet and supplements was very high.
Of 19 patients (68%) in the gluten-consuming group, 13 reported that symptoms were not adequately controlled compared with 6 of 15 (40%) on placebo (P=0.0001; generalized estimating equation).
On a visual analog scale, patients were significantly worse within one week of consuming gluten for overall symptoms (P=0.047), pain (P=0.016), bloating (P=0.031), satisfaction with stool consistency (P=0.024), and tiredness (P=0.001).
In no cases did gluten-consumption trigger anti-gliadin antibodies. Moreover, there where were no significant changes in fecal lactoferrin, levels of celiac antibodies, highly sensitive C-reactive protein, or intestinal permeability. There were no differences in any end point in individuals with the DQ2/DQ8 and those without.
Gibson calls the general lack of research into gluten intolerance "almost unbelievable." He plans to now investigate the prevalence of non-celiac gluten intolerance, why it occurs and whether low levels of gluten can be eaten safely.

Source: