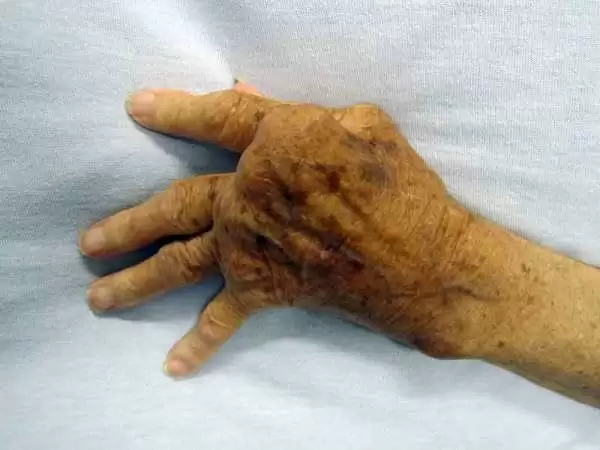 Caption: Image: CC BY-SA 3.0--Doc James
Celiac.com 09/24/2019 - Currently, physicians do not routinely conduct celiac disease screening in patients with rheumatological diseases, as these people are not considered to have high risk for celiac disease.
A team of researchers recently set out to determine rates of celiac disease serological markers in a group of patients with rheumatological issues. The research team included Giacomo Caio, Roberto De Giorgio, Francesco Ursini, Silvia Fanaro, and Umberto Volta.
---
Celiac.com Sponsor (A12):


---
---
Celiac.com Sponsor (A12-m):


---
They are variously affiliated with the Department of Medical and Surgical Sciences, University of Bologna, Bologna, Italy; the Mucosal Immunology and Biology Research Center, Massachusetts General Hospital – Harvard Medical School, Boston, Massachusetts, USA; the Department of Medical Sciences, University of Ferrara, Ferrara, Italy; the Department of Health Sciences, University of Catanzaro "Magna Graecia"; and the Centre of Experimental Medicine and Rheumatology, William Harvey Research Institute, Queen Mary University of London.

The team screened blood from 230 rheumatological patients for celiac disease by testing IgA antitransglutaminase (TTG IgA), IgG deamidated gliadin peptides (DGP IgG) and IgA antiendomysium (EMA) antibodies.

Of the 230 total patients, the team found 67 patients with rheumatoid arthritis (RA), 52 with Sjögren's syndrome (SjS), 42 with systemic sclerosis (SCL), 35 with systemic lupus erythematosus (SLE), 15 with mixed connective tissue disease, 11 with polymyositis and 10 with dermatomyositis.

The results showed TTG IgA antibodies in a total of 7 out of 230 cases, or 3%. They also showed such antibodies in 3 of 42 SJS cases, 2 of 42 SCL cases, 1 of 67 RA cases, and 1 of 35 SLE sera. All seven samples were also positive for DGP IgG and EMA IgA. DGP IgG antibodies were the most common, showing up in 16 total samples.

High rates of celiac disease antibodies in adult rheumatology patients suggest that celiac disease screening might be a good idea for people with rheumatological issues.

Read more at Gastroenterology Hepatology Bed Bench. 2018 Summer; 11(3): 244–249.