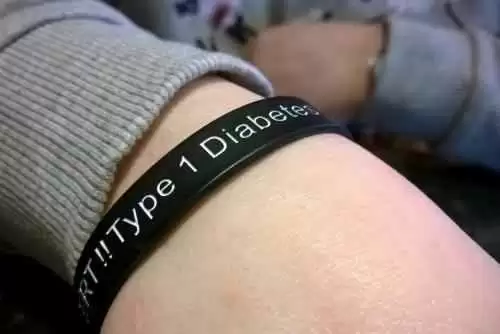 Caption: A recent study tracked rates of celiac disease and type 1 diabetes in youth on three continents. Photo: CC--Pete
Celiac.com 07/05/2017 - Numerous researchers have documented a connection between celiac disease and type 1 diabetes.
One team of researchers recently set out to examine international differences in celiac disease rates and clinical characteristics of youth with coexisting type 1 diabetes and celiac disease compared with type 1 diabetes only.
---
Celiac.com Sponsor (A12):


---
The research team included Maria E. Craig, Nicole Prinz, Claire T. Boyle, Fiona M. Campbell, Timothy W. Jones, Sabine E. Hofer, Jill H.Simmons, Naomi Holman, Elaine Tham, Elke Fröhlich-Reiterer, Stephanie DuBose, Helen Thornton, Bruce King, David M. Maahs, Reinhard W. Holl and Justin T. Warner.

To analyze the relationship between outcomes, including HbA1c, height-standard deviation score [sDS], overweight/obesity, and type 1 diabetes with celiac disease versus type 1 diabetes alone, adjusting for sex, age, and diabetes duration, the team created multivariable linear and logistic regression models.

The analysis included 52,721 people under 18 years of age with a clinic visit between April 2013 and March 2014. The team used the following data sources: the Prospective Diabetes Follow-up registry (Germany/Austria); the T1D Exchange Clinic Network (T1DX) (U.S.); the National Paediatric Diabetes Audit (U.K. [England/Wales]); and the Australasian Diabetes Data Network (ADDN) (Australia).

The researchers found biopsy-confirmed celiac disease in 1,835 young people, or 3.5%. These patients were diagnosed on average at age 8.1 years, with a range of 5.3 to 11.2 years.

Most young people (37%) with diabetes upon celiac disease diagnosis had it for less than one year. Eighteen percent with diabetes had it for 1-2 years at celiac diagnosis, 23% had diabetes between 3 and 5 years at celiac diagnosis, while 17% had diabetes for more than 5 years at celiac diagnosis. Celiac disease rates ranged from 1.9% in the T1DX to 7.7% in the ADDN and were higher in girls than boys (4.3% vs. 2.7%, P < 0.001).

Children with coexisting celiac disease were diagnosed with diabetes at 5.4 years on average, compared with those with type 1 diabetes only, who were diagnosed at 7.0 years of age, on average. Also, fewer children with both conditions were non-white, 15 vs. 18%.

Height-SDS was lower in those with celiac disease (0.36 vs. 0.48) and fewer were overweight/obese (34 vs. 37%, adjusted P < 0.001), whereas average HbA1c values were comparable: 8.3 ± 1.5% (67 ± 17 mmol/mol) versus 8.4 ± 1.6% (68 ± 17 mmol/mol).

This study clearly documented that celiac disease is not uncommon in young people with type 1 diabetes. Differences in disease rates may be due to variations in screening and diagnostic practices, and/or risk levels.

Although the groups showed similar glycemic control, the research team encourages close monitoring of growth and nutrition in this population, due to the lower height-SDS.

Source:

 

The researchers in this study are variously affiliated with the Children's Hospital at Westmead, Sydney, New South Wales, Australia; University of New South Wales, Sydney, New South Wales, Australia; Charles Perkins Centre Westmead, University of Sydney, Sydney, New South Wales, Australia; Institute of Epidemiology and Medical Biometry, University of Ulm, Ulm, Germany; German Center for Diabetes Research, Munich-Neuherberg, Germany; Jaeb Center for Health Research, Tampa, FL; Leeds Children's Hospital, Leeds, U.K.; The University of Western Australia, Perth, Western Australia, Australia; Telethon Kids Institute, Perth, Australia; Department of Pediatrics, Medical University of Innsbruck, Innsbruck, Austria; Vanderbilt University Medical Center, Nashville, TN; Institute of Cardiovascular and Medical Sciences, University of Glasgow, Glasgow, U.K.; Women's and Children's Hospital, Adelaide, South Australia, Australia; Department of Pediatrics, Medical University of Graz, Graz, Austria; St. Helens and Knowsley Teaching Hospitals NHS Trust, St. Helens, U.K.; John Hunter Children's Hospital, Hunter Medical Research Institute, University of Newcastle, Callaghan, New South Wales, Australia; Lucile Salter Packard Children's Hospital Stanford, Stanford University Medical Center, Palo Alto, CA; and the Children's Hospital for Wales, Cardiff, U.K.