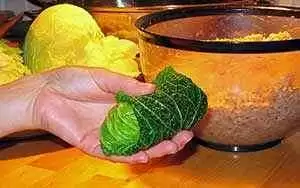 Caption: Photo: CC--A. Fielder
Celiac.com 12/23/2014 - I confess to being a bit picky about cabbage. I like it, but I tend to be a bit finicky about how it is prepared. When I saw these at a party recently, I was reluctant to give them a try. Once I did, I realized I had been totally wrong. They were delicious, and they disappeared quickly, as people realized how good they were. 
This recipe delivers about 8 tasty cabbage rolls, so scale accordingly.
---
Celiac.com Sponsor (A12):


---
---
Celiac.com Sponsor (A12-m):


---
Ingredients:
¼ cup chicken broth
¼ cup uncooked white rice
8 Savoy cabbage leaves
1 pound lean ground beef
¼ cup chopped onion
2 cloves garlic, minced
1 egg, slightly beaten
1 teaspoon salt
¼ teaspoon ground black pepper
1¼ cups creamy tomato soup (See recipe here)
Directions:
In a medium saucepan, bring water to a boil. Add rice and stir. Reduce heat, cover and simmer for 20 minutes.
Bring a large, wide saucepan of lightly salted water to a boil. Add cabbage leaves and cook for 2 to 4 minutes or until softened; drain. 
In a medium mixing bowl, combine the ground beef, 1 cup cooked rice, onion, egg, salt and pepper, along with 2 tablespoons of tomato soup. Mix thoroughly.
Divide the beef mixture evenly among the cabbage leaves. Roll and secure them with toothpicks or string.
In a large skillet over medium heat, place the cabbage rolls and pour the remaining tomato soup over the top.
Cover and bring to a boil. Reduce heat to low and simmer for about 40 minutes, stirring and basting with the liquid often.