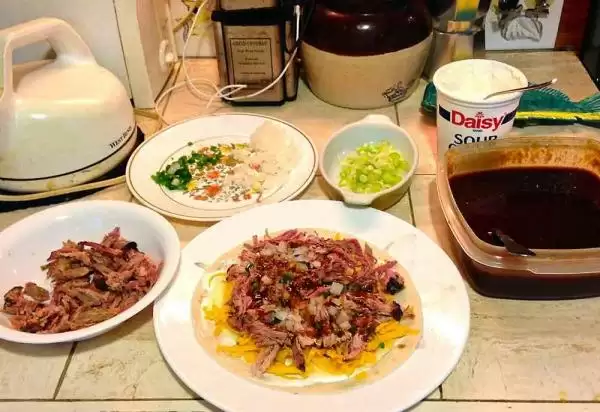 Caption: Image: CC--Cayobo
Celiac.com 01/19/2019 - Want to blow some minds, turn some heads, and please some hungry eaters? These pulled pork quesadillas are just the thing to rock your Super Bowl Party or your next big potluck. They are guaranteed to disappear and have people asking for the recipe.
Ingredients:
1 package Kirkland Signature Pulled Pork (or other plain, gluten-free pulled pork--32 ounces)
2 dozen gluten-free corn tortillas, fried crisp
1 medium head of green cabbage, finely shredded
1 large carrot, peeled and shredded
1 cup cilantro, minced
1 cup cooking oil
Miracle Whip, Kewpie, or a gluten-free version*
Apple Cider vinegar
Sugar, to taste
Salt, to taste
Black pepper, to taste
4 large, ripe avocados 
1 tablespoon fresh lemon juice
3 cups gluten-free Pico de Gallo, or other fresh salsa
Gluten-free hot sauce, as desired
---
Celiac.com Sponsor (A12):


---
---
Celiac.com Sponsor (A12-m):


---
Directions:
First, you're going to blend the shredded cabbage and carrot, sugar, Miracle Whip (or other), cider vinegar, salt and pepper to make good old fashioned coleslaw. If you already have a favorite coleslaw recipe, you can make that. Here's a simple coleslaw recipe, just in case.

Make slaw ahead of time, and set aside. Drain off any excess moisture from the coleslaw before serving.

The next thing you'll do is make guacamole from the avocados. Here's a recipe for great guacamole, although, I'd omit the cilantro for this dish. Alternatively, you can put the peeled and pitted avocados in a bowl, mash them up, and stir in a bit of pico de Gallo, lemon juice and salt.

Fresh tortillas work best for this dish, but you can use pre-made in a pinch. 

If making fresh tortilla crisps, begin by heating cooking oil in deep pan. Cook one tortilla at a time, turning as needed. When tortillas are crisp and golden brown, remove to paper towel on a plate. Cook remaining tortillas.

Heat pulled pork in small batches, as needed.

When tortillas are all cooked and pulled pork is heated, it's time to make tostadas.

To make tostadas, place one crisp tortilla shell on a plate, and top with guacamole, then coleslaw. Add cilantro, pulled pork, salsa and hot sauce as desired. Enjoy!

*Miracle Whip is not labeled gluten-free, but it contains no gluten ingredients, and is well tolerated by many folks with celiac disease. If you prefer, you can make your own using gluten-free mayonnaise, cider vinegar, sugar, mustard, and dried garlic powder. Start with the mayo, then add sugar and other ingredients one by one, until you reach your desired taste.