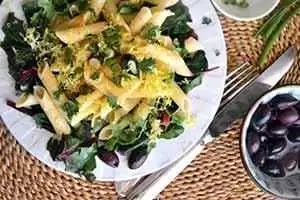 This excellent tasting pasta recipe is very easy to make and it will please even the most picky pasta fans!
Gluten-Free and Dairy-Free
---
Celiac.com Sponsor (A12):


---
---
Celiac.com Sponsor (A12-m):


---

Ingredients:
1 cup Heartland Gluten-Free Penne Pasta
1 Tbsp. extra-virgin olive oil
1 head Swiss chard, cut into 1/2 inch pieces
1/2 cup kalamata olives
1/4 cup fresh cilantro
2 scallions, thinly sliced
1 tsp. apple cider vinegar
1 Tbsp. freshly squeezed lemon juice
1 tsp. fresh lemon zest
1/4 tsp. smoked paprika
1/4 tsp. sea salt
1/4 tsp. freshly ground pepper
Instructions:
Cook penne according to package directions. Remove from heat; drain and set aside.
Meanwhile, in a large skillet, cook Swiss chard in olive oil over medium heat until wilted, approximately 4 minutes. Remove from heat; transfer to a large serving bowl. Add cooked penne, olives, cilantro, scallions, vinegar, lemon juice, lemon zest, smoked paprika, sea salt and pepper; gently toss to combine.
Serve warm.