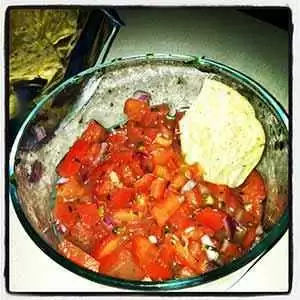 Caption: The finished pico de gallo salsa. Photo: CC--Scratched Cooking
It's hard to love Mexican food without loving salsa. For me, pico de gallo always tops the list of my many salsa favorites. In spring and summer, when tomatoes are in season, I like to whip up a batch of fresh pico de gallo and dive into a bowl of tortilla chips as I prepare my favorite Mexican dishes. This recipe will deliver a tasty pico de gallo that will have your stomach smiling, and your taste-buds yelling arriba!

Ingredients:
6 roma tomatoes, diced
½ red onion, finely chopped
½ cup chopped fresh cilantro
½ jalapeño pepper, seeded and minced
1 clove garlic, minced
1 pinch garlic powder
1 pinch ground cumin
Juice from one lime
salt and ground black pepper to taste

Directions:
In a mixing bowl, combine the tomatoes, onion, cilantro, jalapeño pepper, lime juice, garlic, garlic powder, cumin, salt, and pepper, and stir until mixed.

Place in a refrigerator for a few hours before serving.