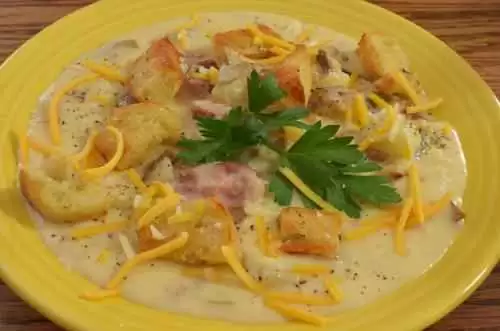 Caption: The finished potato soup. Photo: CC--JeffreyW
Celiac.com 12/16/2017 - Looking for something warm and tasty, yet easy to make? This delicious ham and potato soup will fill your tummy and warm your soul. It's so comforting it practically wraps you up in a blanket and sings you a lullaby!
Ingredients:
3½ cups chicken stock
3½ cups peeled and diced potatoes
1 cup diced cooked ham (from ham hocks)
⅓ cup parmesan cheese
½ cup diced celery
½ cup finely chopped onion
5 tablespoons butter
5 tablespoons potato starch
2 cups milk
½ teaspoon salt, to taste
1 teaspoon ground white or black pepper, or to taste
Chopped chives, or flat leaf parsley, for serving
Directions:
Combine the potatoes, celery, onion, ham and water in a stockpot.

Bring to a boil, then cook over medium heat until potatoes are tender, about 10 to 15 minutes.

Stir in the chicken stock, salt and pepper.

In a separate saucepan, melt butter over medium-low heat.

Whisk in potato starch with a fork, and cook, stirring constantly until thick, about 1 minute.

Slowly whisk in some milk, avoiding lumps, until all of the milk is added.

Whisk in parmesan cheese.

Continue stirring over medium-low heat until thick, 4 to 5 minutes.

Stir the milk mixture into the stockpot, and cook soup until heated through.

Serve immediately with toasted gluten-free bread and butter, and chives, or parsley garnish, as desired.